Expert Tips
Architectural Finishes and Mass Timber: A Primer
Covers coatings and how to choose them, protective treatments vs. finishes, best practices for protecting wood in situ, and maintenance cycles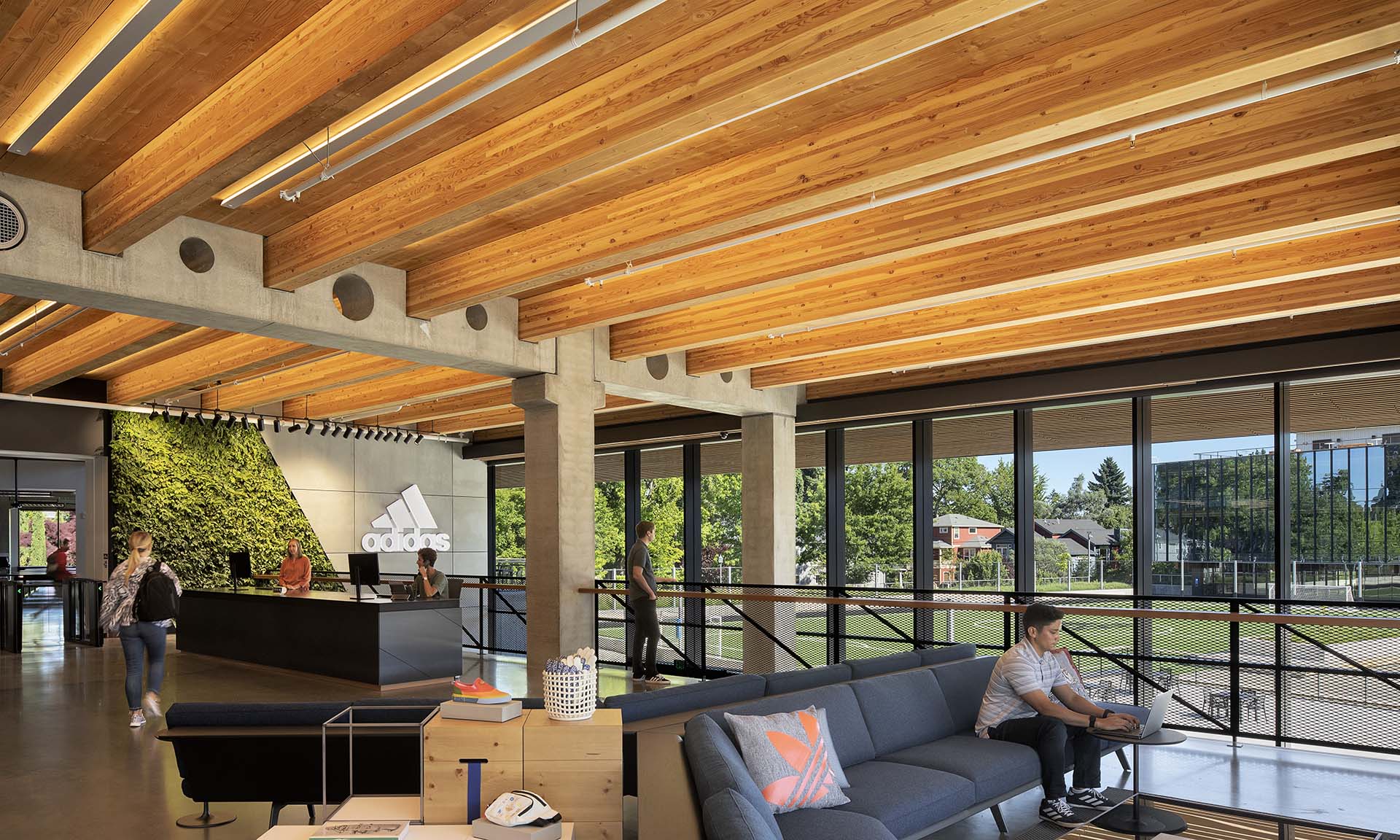 The rising use of mass timber underscores the need to protect wood before, during, and after construction from moisture, handling, UV rays, wear from human contact and cleaning products—and anything else that could take away from the desired aesthetic of the finished project. This article focuses on strategies and best practices for utilizing waterborne, environmentally-friendly architectural finishes to safeguard mass timber materials during transportation, storage, installation, and beyond.
Why Do Coatings Matter?
When owners choose mass timber for their construction project, they are making a massive investment in wood. It is imperative that the project team do everything in its power to protect that investment, and to ensure the wood always looks as good and performs as well as it does the day it leaves the manufacturer's production facility.
The appropriate coating system—preferably applied in the controlled environment of a factory setting—provides protection from myriad hazards the wood may encounter during manufacturing, shipping, and construction. Despite best efforts, construction schedules can be thrown off by factors ranging from weather delays to labor disputes, and protecting the wood is paramount, wherever in the process it may be.
A protective undercoat can also help avoid costly repairs to wood members in situ due to moisture damage or staining, which can be caused by iron (i.e. metal dotting on the wood due to welding, hammering, etc.), lifting systems, or exposure to construction debris. Repairing wood in the field can be especially problematic if repaired sections look different than the rest of the wood, requiring entire sections to be reworked for even a small blemish. However, with properly applied protection, wood can be more easily repaired.
Once constructed, wood must withstand a range of weathering factors and possible biological and physical degradation. These factors can be evaluated by a coating specialist who can design a customized system that protects the wood, ensures the building will perform well over time, reduces time-consuming and costly maintenance for the owner, and allows the mass timber structure to stand as a testament to the beauty and longevity of wood for commercial and residential use. Finishes can also be used to enhance the architect's design by highlighting the wood through natural, translucent, opaque, or even weathered tones.
What Factors Impact Coating Decisions?
When determining the appropriate coating and maintenance interval, it's important to look at the wood species/substrate and its expected exposure. The majority of mass timber is utilized on the interior of structures; however, there could be exterior exposure, typically in the form of soffits and beams. Based on these considerations, a coating professional will evaluate the impact of weathering and biological/physical factors such as UV exposure, humidity, exposure to traffic/human touch or pollutants, and temperature range.
Architects and designers should consider the following in selecting a finish supplier/product:
History of success with mass timber wood protection
Customizable color options
Performance of finishes
Environmental performance
Ability to penetrate wood
Ultra-low VOC profile
Ease of maintenance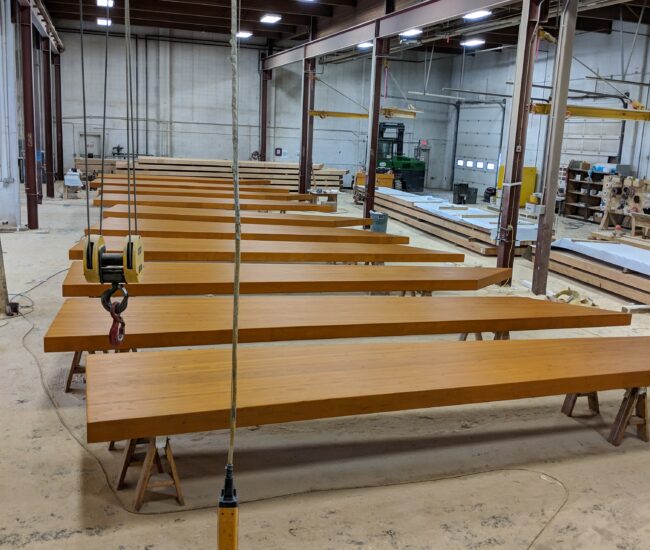 Protective Treatments vs. Finishes
Construction sites are muddy, dirty, wet environments, and construction projects are fraught with the potential for delays. Because of this, it is nearly impossible to handle timber elements from factory to installation without them being exposed to weather and potential damage during storage, handling, and construction.
The best practice is to apply a penetrating, breathable protective treatment in the factory—something mass timber manufacturers are increasingly doing. There are many advantages to factory-applied protection. In factory settings, undercoats can be applied under precise conditions, accounting for things like lighting, dust exposure, temperature controls (optimally 59-74 °F), humidity (40-60%), and adequate product application at the correct thickness.
Applying a protective undercoat to all six sides of a wood element—including the all-important end grain—helps limit moisture absorption and maximize the performance of the finish coats. When applied according to manufacturer specifications, these penetrating, tintable and recoatable coatings help minimize discoloration issues during pre-construction, construction, and installation. They also contribute to better stability (less swelling and checking) of wood components and increase topcoat performance.
The protective undercoat treatment is just the first step of a comprehensive coating system. Subsequent coats of a penetrating, waterborne finish will provide additional water and UV protection, creating durability and bringing out the beauty of the wood. They also protect the inside of the wood by allowing it to "breathe," helping to prevent moisture from getting trapped in the wood and causing rot or mold. Applying a subsequent breathable and waterborne topcoat adds another layer of protection for a fuller finish that will not crack, peel, or blister—and extends the maintenance cycle of the finish.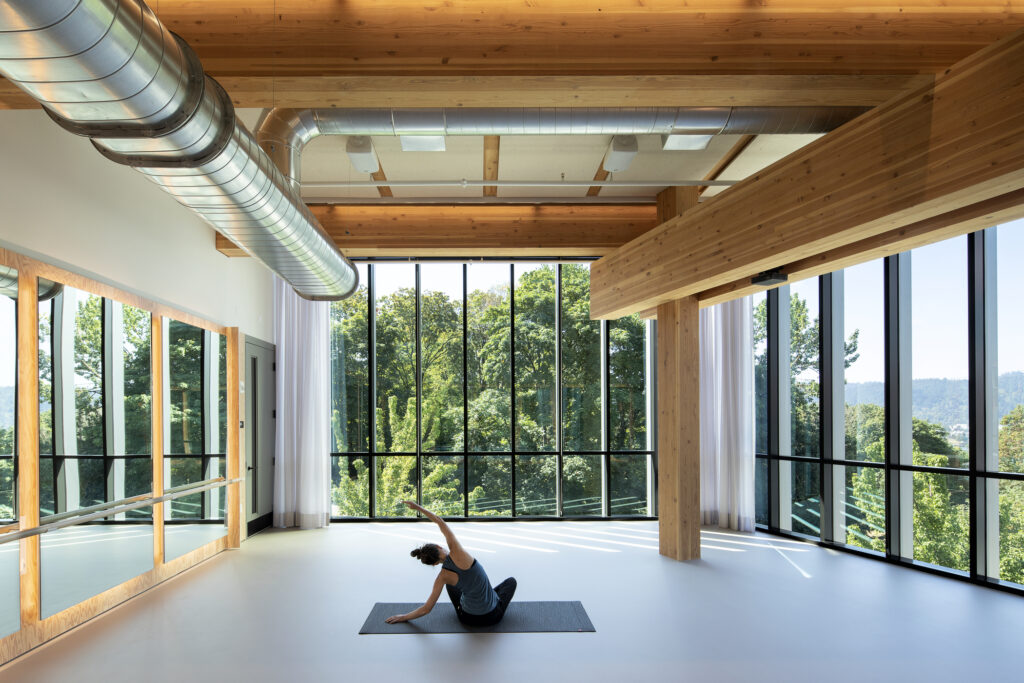 Designers of Adidas Headquarters wanted a low-VOC, environmentally-friendly coating that would still be high performing. The manufacturer applied a clear protective undercoat to faces and edges of the wood elements to protect against weathering, repel moisture, and guard against water absorption and staining. End grains received two coats, and faces that were going to be left exposed received a coating that also contained UV protection.
LEVER Architecture / KPFF / Turner Construction Company / photo Jeremy Bittermann
Best Practices for Protecting Wood In Situ
It is recommended that construction teams develop a moisture management plan, as well as a mass timber handling, storage, and installation plan, to minimize discoloration, mold, and UV degradation on the surface of wood elements, which can pose problems for aesthetics and subsequent topcoats.
In short, the structural panels, columns and beams should be stored and handled with the same care as millwork material. The best storage plan is to minimize storage altogether by coordinating deliveries between the fabricator and contractor to coincide with erection timelines. If mass timber must be stored, minimize the inventory at the construction site, utilize due care principles when installing (i.e., no dragging the timber, which will abrade the surface), and be careful not to damage the product wrapping.
Mass timber should be stored in a covered area. If this is not possible, a paved, level storage area that allows wood to be stored off the pavement will maintain a drier environment and allow water to quickly evaporate. It is also advised to use packaging strategies that promote air flow and minimize condensation. It is not uncommon to see packaging tears and water pooling, which can cause moisture-related issues, including mold and water line markings on the substrate.
Developing a plan for moisture management during the building phase is also recommended. This includes removing excessive moisture off the wood during construction to help minimize discoloration and performance issues.
Maintenance Cycles
Well-intact, hydrophilic mass timber coatings shouldn't require a lot of maintenance unless they are damaged during construction. But when mass timber extends to the exterior of a building in the form of soffits or beams, an inspection and maintenance plan should be put in place to evaluate the wood annually. Maintenance is required when the surface shows signs of wear, fading, damage or erosion (excessive checking, etc.), and should be undertaken before the condition worsens. Factors impacting the maintenance cycle include:
Quality of prior wood surface preparations as outlined by the manufacturer
Selection of stain product for the intended end-use and wood species
Finish color and transparency
Quality of finish application
Coating schedule
Number of coats previously applied
Compatibility of existing coating with the chemistry of a new finish (e.g., it is important to choose a product that penetrates and protects, but also one that is compatible with any other coating should a different manufacturer/product be selected for subsequent maintenance)
Exposure to UV and moisture
Structural design features that minimize exposure to the elements (e.g., overhangs, drip edges, end caps, etc.)
Penetration and breathability of coatings play a critical role in defining their durability. Wood deterioration and weathering can be slowed considerably with properly formulated coatings that minimize steep moisture gradients (i.e., by essentially slowing the rate of moisture intake and evaporation).
For all of the reasons detailed above, the most valuable advice is, "Don't compromise on the coating." It can protect the mass timber during transport and in situ while keeping the wood healthy and minimizing the impact of construction site exposures, weathering, and human contact post-construction.
Additional Resources:
Sansin – Offers a wide variety of environmentally friendly, high-performing waterborne coating products formulated to minimize the impact of moisture and UV rays on wood substrates and finishes and meet desired aesthetics in terms of color and final finish for architectural specifications
WoodWorks. (2021). U.S. Mass Timber Construction Manual. Chapter 4 – Moisture Control.
WoodWorks. (2022). Mass Timber Installer Training Curriculum. Module 8 – Material Protection. Module 10 – Repairs, Finishes and As-Builts.