Expert Tips
Assessing the Financial Feasibility of Modular Construction
Considerations for developers and building designers evaluating the potential cost benefits of modular for a multi-family project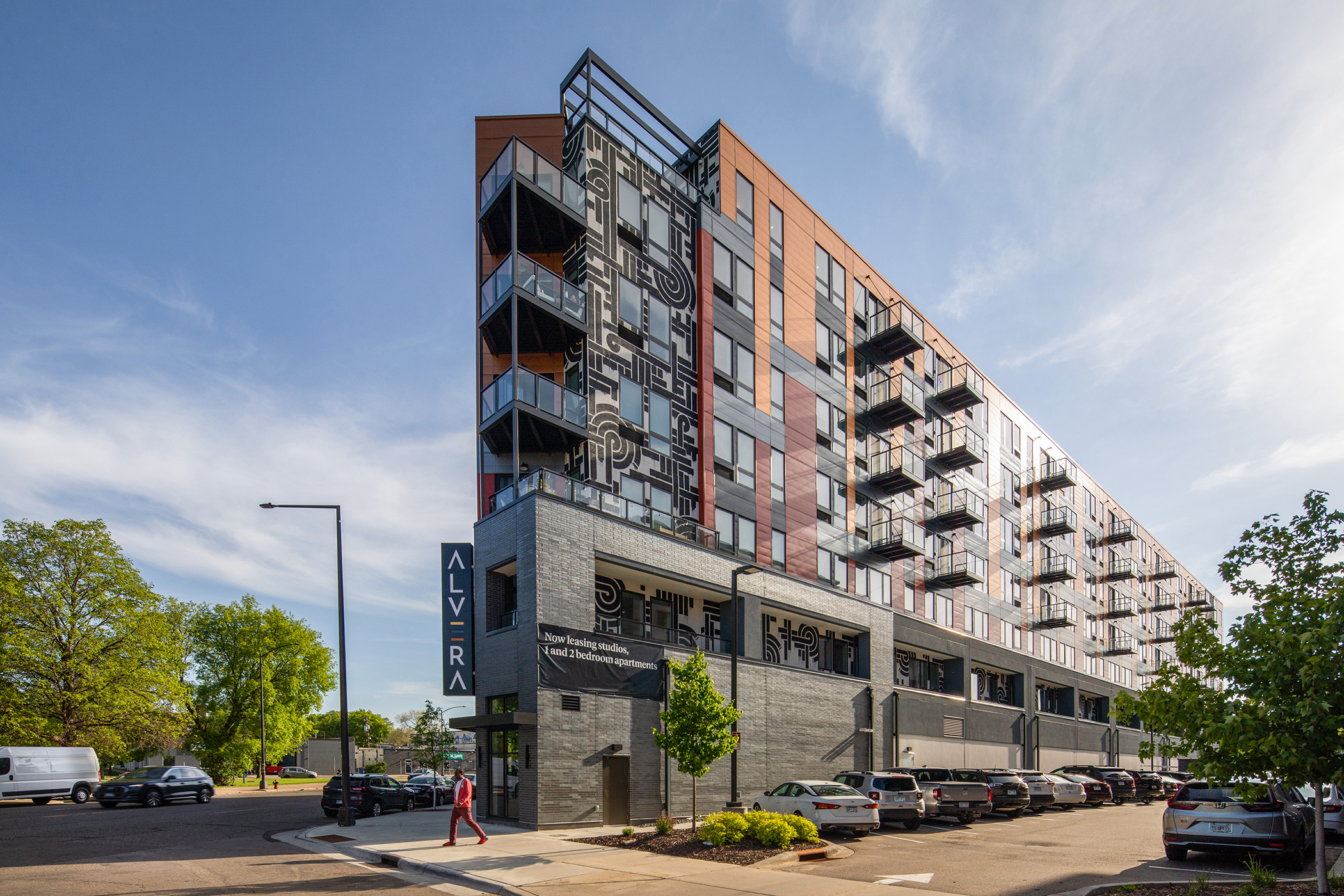 Modular construction has been touted as a means to combat rising interest rates and costs, and to help address America's housing shortage. Advantages such as faster construction in a quality-controlled setting have turned it into a $100 billion global industry, $27 billion in the U.S., even in a tight labor market.1 But are there tangible cost benefits for a developer or design team considering modular for a multi-family project?
This article will consider potential savings and rates-of-return associated with modular construction, and highlight the impacts of this approach on Alvera, an apartment building in St. Paul, MN with five stories of modular light-frame wood construction over a two-level podium.
The Impacts of Speed
When assessing the financial feasibility of modular vs. traditional on-site construction, factors come into play that generally don't fall into project pro-forma. One of the most important is speed to market. Because construction occurs simultaneously with site and foundation work, a modular approach can reduce the schedule by 30-50%.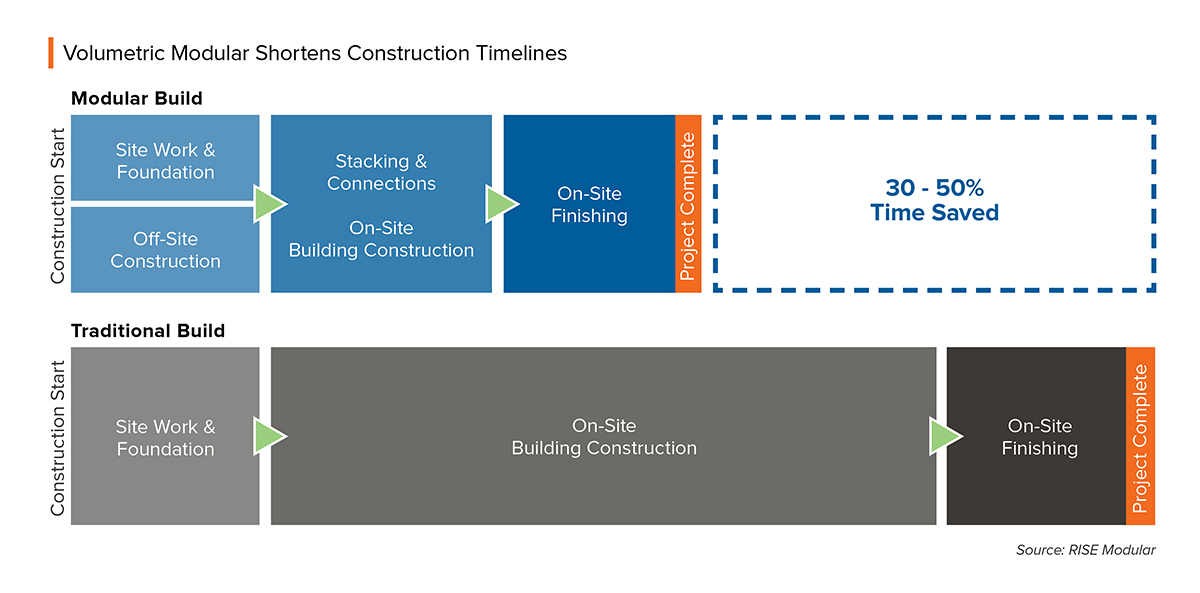 For instance, for a 200 unit, seven-story project with light-frame wood construction over a concrete podium, a schedule of 18 months could be compressed to 10-12 months. This allows the project to generate income sooner while reducing construction overhead and loan interest. Modular units are completed in a factory through a manufacturing process, which necessitates engineering and design development coordination. This controlled environment reduces the risk of change orders, which, in addition to keeping the project on schedule, creates a level of certainty in calculating overhead and labor costs. There are also less costs related to street closures and laydown areas. (A related consideration is that modular construction can solve issues with tight urban sites where cranes and scaffolding would be challenging.) Once modules arrive at a jobsite, installation happens quickly with minimal disruption to the neighborhood.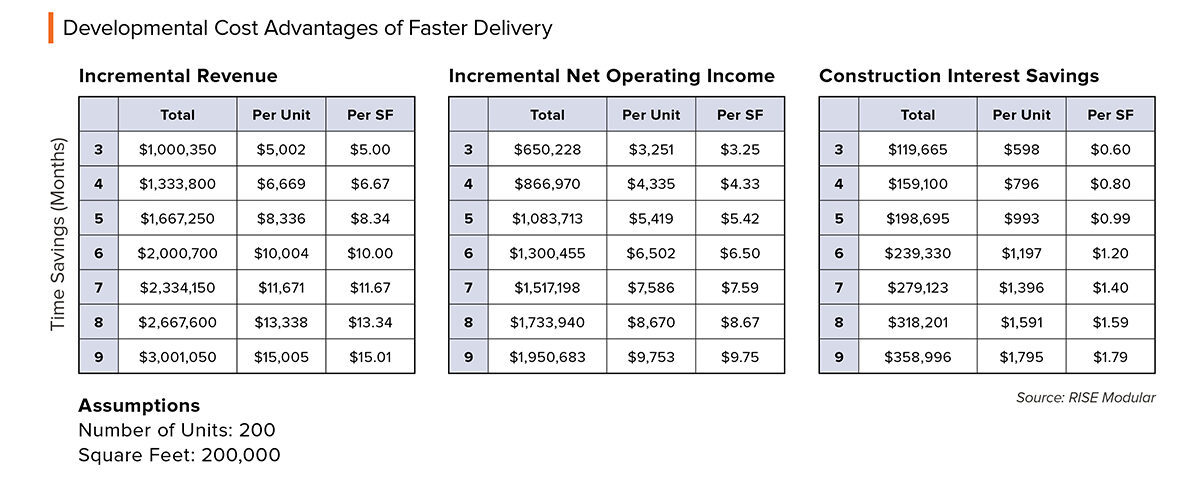 Other Positive Impacts on Cost
A factory-built approach lends itself to quality and efficiency while addressing skilled labor shortages and reducing jobsite waste, all of which save time and money. For example, building in a controlled environment protects the value of workmanship by eliminating the influx of water associated with rain or snow—an important consideration for wood projects. Modules arrive at the jobsite sealed and fully protected for the installation phase. The benefit of predictability in modular construction can lead to project savings of 5-10%, though that basis can change with project scale and complexity.
On a typical project, the entire module—from wood-frame structure to finished walls, flooring, plumbing and electrical fixtures—is built in the factory. A focus on consistency and quality enhances structural integrity, which minimizes damage during transportation (and again, costly delays). However, the final building will have more integrity than the modules alone, as the modules are placed beside and on top of each other, creating a stronger box without the use of shear walls. There is also no need for gypsum concrete floor underlayment (which adds more water to a jobsite along with curing time that can slow construction), as the inherent nature of this approach creates two layers of separated sound barriers at floors/ceilings and walls, increasing acoustic ratings without additional materials. This doesn't limit creativity as modules can be custom designed and stacked at varying angles. So, while repetition yields the greatest savings, creative ingenuity plays a role in constructing beautiful and lasting structures.
Alvera Meets Objectives Faster and at Lower Cost with a Modular Approach
Alvera is a 5-over-2 market-rate apartment building in St. Paul, MN. It was first conceived as a site-built project, but there were a number of challenges. The site was small and uniquely shaped, with limited room for equipment and nowhere nearby for material storage or staging. The schedule was also estimated at 18-24 months. DJR Architecture & Design had previous experience in modular construction and believed the creative objectives could be achieved using this approach—faster and at lower cost.
As expected, the team had no issue maintaining Alvera's aesthetic and complexity; in addition to residential units, a gallery, and numerous common amenity spaces, the project includes a mechanized car-stacking system with 102 semi-automated stalls. The modular design also allowed maximum density with 193 units on 0.61 acres (316 units/acre) while reducing the timeline to 12 months. The modules were set in 22 days without the need for staging and with less traffic, noise, and disruption to the neighborhood. The quality of the project was also improved, with more insulation and better acoustic performance.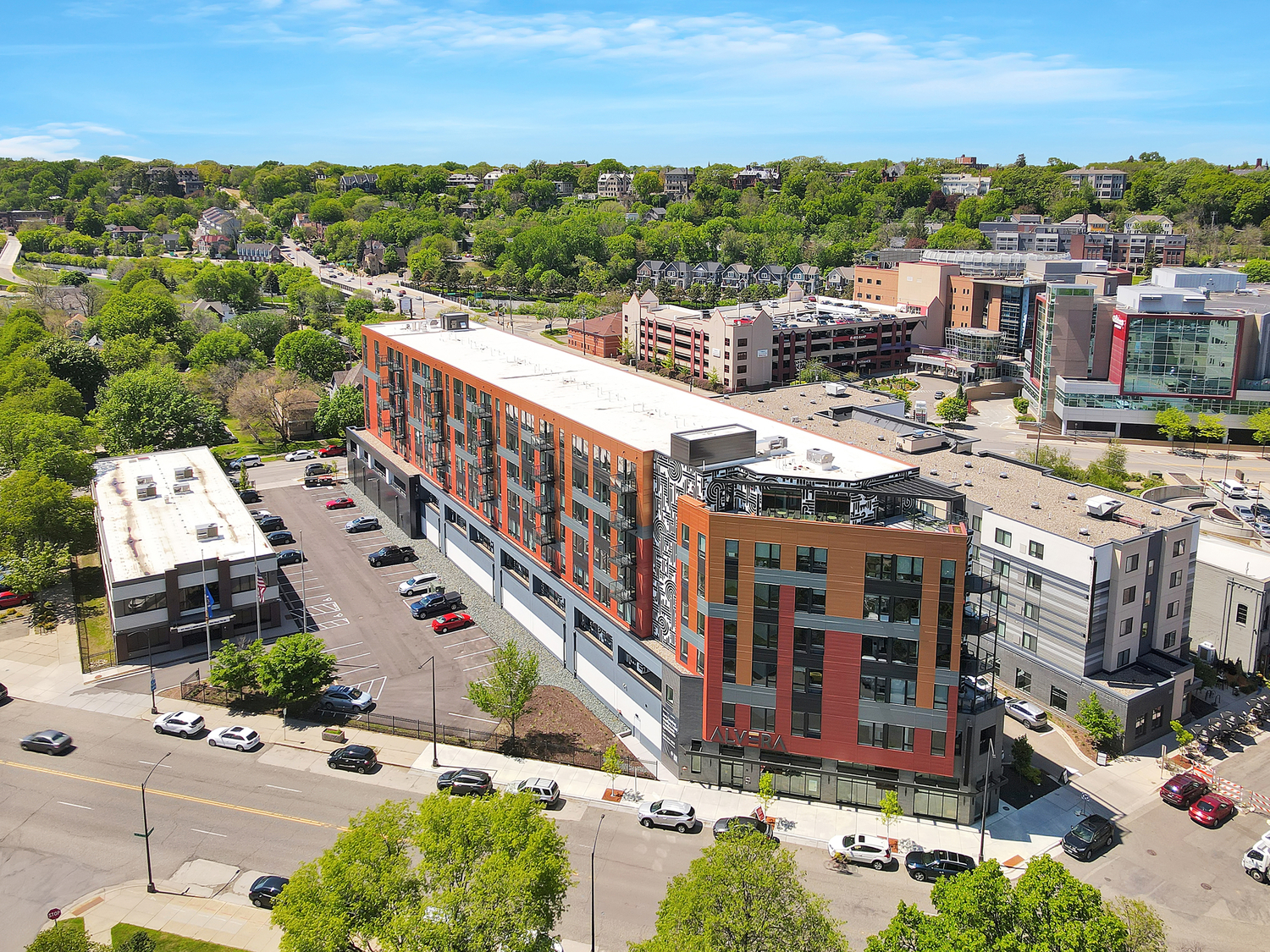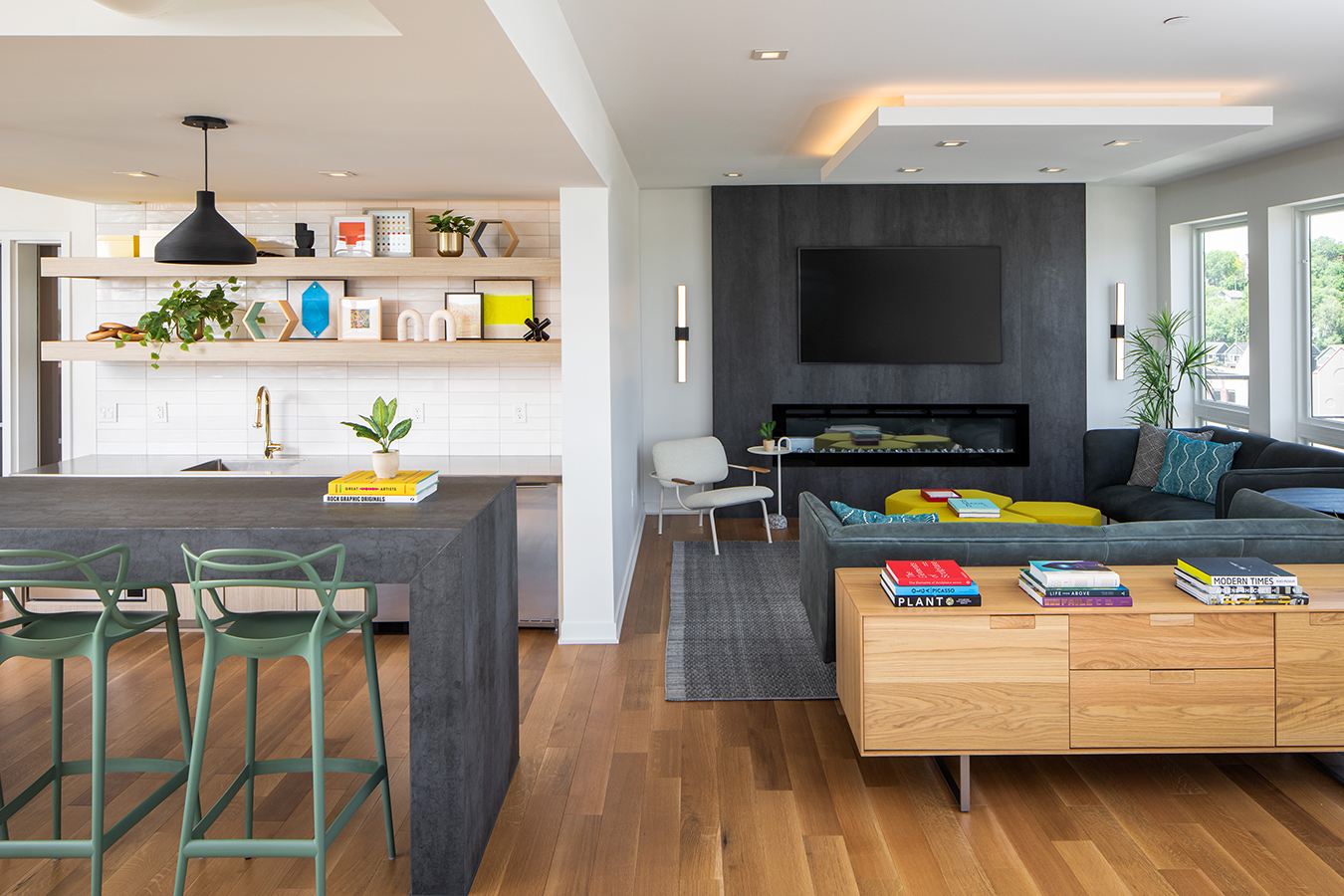 DJR Architecture & Design / photos Korey Kevin Studio
Designing for Efficiency
When evaluating how and when the design team's time will be spent, it's important to consider the differences between modular and on-site projects. Most notably, planning and design are a hybrid of design and typical construction administration activities. Since modular construction is largely a manufacturing process, all material specification and procurement are done upfront. Cabinetry, appliances, hardware, furnishings, fixtures, and equipment (FFE) also need to be specified and locked in to ensure product delivery before construction of the modules. This is critical to achieving the timeline advantages of modular construction. It means the design team will be reviewing and approving submittals while also working through construction documents. To make this a smooth operation, finish selections need to be approved by the building owner much earlier in the process and with decisiveness. Proper organization reduces the risk of change orders, which is much more important for a modular project. Changes late in the process can cause delays and wipe out cost savings.
Architects and interior designers must have a high level of collaboration at the beginning of the project when conceptualizing the design of the building. This involves coordination with the engineering team and general contractor to understand the process and methods involved, but the onus is on the architect, engineer and developer to create the schedule. More coordination brings additional soft cost expenses, but they're far outweighed by a smooth process and reduced change orders.
Despite a potentially steep early learning curve, companies new to modular construction can see successful results with accelerated timelines, greater quality control, and other benefits that result in significant cost and time savings.
Contributed by Dean Dovolis, DJR Architecture & Design
1 Global Industry Analysts. (2023). Global Modular Construction Industry.