A Look Back on the 2023 Mass Timber Conference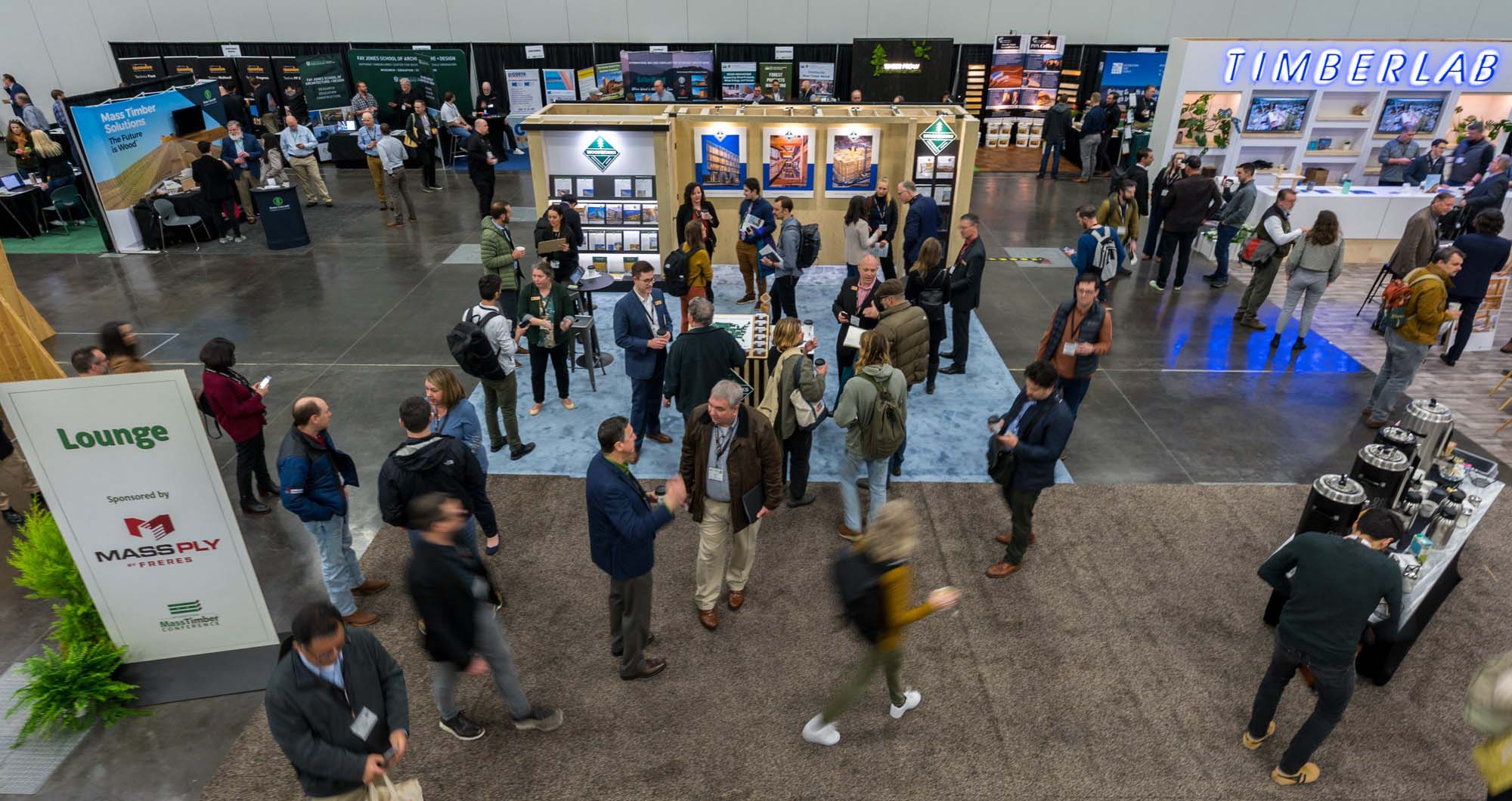 Apr 19, 2023 WoodWorks
We're thrilled to have co-hosted the hugely successful 2023 International Mass Timber Conference (MTC), which brought a record 3,000+ attendees through the doors of the Oregon Convention Center in Portland. WoodWorks sponsored 112 interested professionals with free passes and hosted a crowd of more than 300 for Monday's Mass Timber Boot Camp: Becoming a Mass Timber Design Expert.
With a live mass timber construction demo, rousing keynotes, and deep dives on topics like carbon accounting, insuring and financing mass timber projects, and optimizing mass timber design, there was no shortage of knowledge to gain, take home and apply to projects. The WoodWorks team was involved in the conference on many levels, and we're proud to have facilitated such an engaging and informative experience for our industry.
Keep reading for key takeaways, highlights from the speakers, and resources to keep you informed on the latest in mass timber products, design, and construction.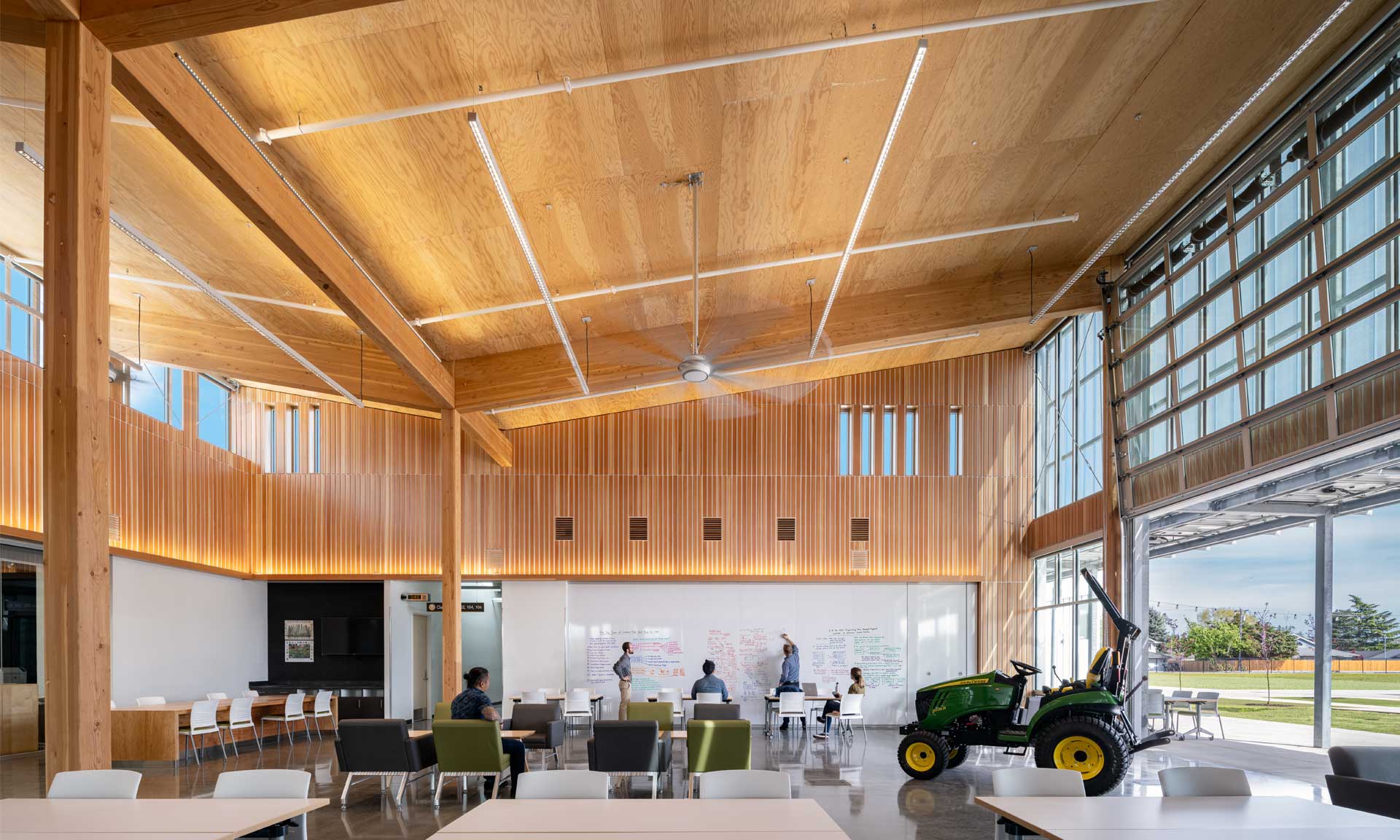 Award-Winning Wood Design
At the opening reception, we announced the 2023 Wood Design Award winners and had the exciting opportunity to present several awards to project team members in attendance. The awards mark another year of excellence and innovation in mass timber, heavy timber, light-frame, and hybrid building design, charting wood's growth as a material of choice for developers and design teams.
A special thank you to our independent jury, including Corey Martin, a Principal with Hacker Architects; Cheung Chan, Associate and Architect with Neumann Monson Architects; and Lauren Wingo, a Senior Structural Engineer with Arup.
Read about the award categories and browse the gallery of winners.
Mass Timber's Role in a More Equitable Built Environment
Tuesday morning began with an inspiring keynote, For Whom / By Whom: Social Equity and Mass Timber, hosted by Adre founder Anyeley Hallova. Other leaders in Oregon's AEC+D community included Chandra Robinson, Principal, Lever Architecture; Nate Mccoy, President & CEO, NAMC Oregon; Sam Baraso, Program Manager, Portland Clean Energy Fund (City of Portland); and Tamara Kennedy, Director of Economic Development, Port of Portland. Each shared their experiences seeking and creating equity in their professions, how they define it, and how the AEC+D industry can work towards it with greater intention.
How sustainable design and equitable design connect to facilitate change was the center of the conversation. The panelists noted a disconnect between project teams and regions (like Oregon) deeply rooted in sustainable ideals yet lacking a holistic approach to equity in the built environment. Said Chandra, "It's about making sure the greater community benefits and that [design] contributes to the economic prosperity of local economies," and, "If you're designing for people, they must be represented… If we're building the world, we're building it for those who are in it."
For all the progress yet to be made, they also noted recent milestones. Exemplary projects like Meyer Memorial Trust HQ, Lever Architecture's Portland office, and the new PDX Airport Terminal have achieved greater equity at various levels, from community and minority participation to utilizing regional timber enterprises. Nate noted that the team behind a renovation project at the conference venue had achieved 50% minority participation, a record for the state at the time. Tamara talked about working with the Oregon Mass Timber Coalition to lay the groundwork for repairing communities affected by the housing crisis and recent wildfires. Utilizing grant money, they've started an Equitable Oversight Committee dedicated to analyzing who benefits from funding, to ensure equity from development to ownership.
Anyeley encouraged members of the design community to think about how they can impact each project without becoming overwhelmed by the change needed system-wide. "If you're in the private sector, you can start with values and doing some things right. You don't have to start doing every single thing right." Added Sam, "Acknowledge the hard work it takes to be intentional and be equitable from the outset—and commit."
The Speed of CLT in Real-Time
Throughout the day on Tuesday, a captivated crowd of AEC+D professionals watched as a two-story structure came to life on the exhibit floor. Even on a small scale, the minimal crew, ease, and quietness of installation highlighted the appeal of mass timber construction. A special thank you to our partners Vaagen Timbers and Seagate Mass Timber for helping us bring the demo to life – without a hitch.
WoodWorks Construction Program Manager Brandon Brooks chatted with interested groups during the live-demo and moderated the session, Avoiding Onsite Delays and Disruption, with team members from Andersen Construction, VaproShield, Naikoon Contracting, and Timber Engineering. From moisture management to leveraging virtual construction tools to maintain control on more complex mass timber projects, there is a growing pool of resources available to mass timber construction teams and experienced professionals sharing lessons learned.
Brandon is available to discuss your specific project needs, and free resources covering the essentials of mass timber construction are available through the WoodWorks Construction Management Program.
Insurers, Developers, and Getting the Green Light on Mass Timber
On Tuesday, WoodWorks Senior Technical Director Ricky McLain moderated a conversation between insurance and finance experts in the Insurance & Financing for Mass Timber Projects: Relationships & Knowledge are the Key session. Leaders with mass timber project experience from MWR Gallagher, JLL Capital Markets, Chubb Group, The Neutral Project, and Waugh Thistleton Architects shared their learnings, underscoring the importance of having key project stakeholders on board with mass timber beyond the AEC+D community.
Andrew Waugh (Waugh Thistleton) gave an example of a successful collaboration between architects and insurers in the London market. They found success using commonly agreed-upon details and design concepts; showing design details in the simplest way possible for someone outside the industry to understand helps to remove technical barriers and has made it easier for new projects to move forward. Others shared first-hand experiences of financing and insuring tall mass timber projects Ascent and Baker's Place. A takeaway from these and other scenarios is that there are many ways to insure and finance mass timber projects, and a willingness to ask questions and build relationships outside of your immediate industry is vital.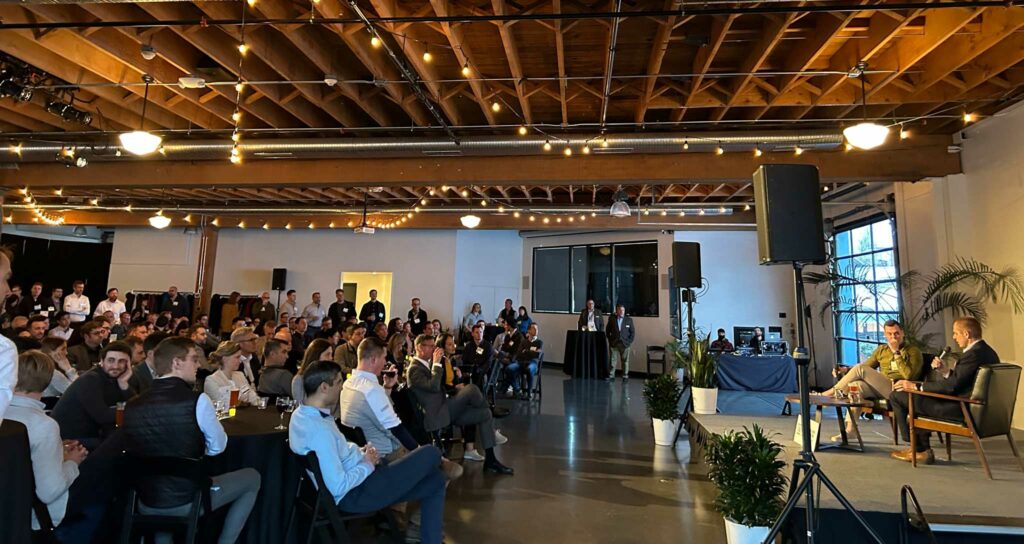 On Tuesday evening, the WoodWorks Innovation Network (WIN) hosted 225+ developers, architects, and engineers for a networking event featuring special guest Dan Whalen, developer of INTRO in Cleveland, OH. Ricky McLain sat down with Dan for a candid Q&A about setting a vision, taking risks, and how INTRO's deal exceeded pro forma expectations for a mixed-use development.
Dan shared more insights during Wednesday's session, Completing the Value Proposition for Developers and Owners, moderated by Andrea Newton, Executive Director of ULI Northwest. We also heard more from pioneering tall wood developers Boris and Tim Gokhman on how they made the business case for mass timber on Ascent, which is currently the world's tallest timber tower. The team behind the Milwaukee, WI development, which includes [Gokhman's] New Land Enterprises, Korb + Associates Architects, Thornton Tomasetti, and Timberlab, celebrated taking home the 2023 Wood Design for Innovation at Monday night's award presentation.
WoodWorks Technical Director Melissa Kroskey joined them to talk through both projects' business cases as documented in our Mass Timber Business Case Study series.
Sustainability and Carbon Accounting
Issues surrounding carbon are at the forefront of many building designers' minds and came up often at the conference. How do we build sustainably and achieve carbon-reduction goals while meeting the growing population's housing and infrastructure needs? Wednesday's keynote by Michael Green, architect, and founder/principal of MGA, presented ideas about the next evolution of wood design. He challenged the crowd to find new ways to eliminate waste by using fewer resources and investing in the research and development of more building products to maximize the sustainable impact of mass timber construction.
WoodWorks Technical Director, Ashley Cagle, expanded on what makes wood different with a deep dive into biogenic carbon accounting in the session titled Understanding the Impacts of Material Choices Through Carbon Accounting, moderated by Rachael Jamison, VP, Markets & Sustainability, American Wood Council. Ashley talked in depth about how you can measure embodied carbon of mass timber projects most accurately using life cycle assessment (LCA). Alexis Feitel, structural engineer and Team Carbon Unit Director at KL&A Engineers and Builders showed the process in action by talking through the Platte Fifteen LCA they published in partnership with WoodWorks, Adolfson & Peterson, and Think Wood.
Mass Timber Product Innovation
WoodWorks Senior Director Heather Strong moderated the panel, Optimizing Design and Keeping Costs in Check: Secrets from Manufacturers. In a roundtable discussion, representatives from Sterling Structural, Western Archrib, and Element5 shared design and detailing insights on achieving the most economical and efficient mass timber structures possible. They discussed questions related to mass timber construction including the ideal grid size to limit costs, at what phase of design it's best to bring the manufacturer on board, and tips for optimizing and improving the cost per square foot.
More tips from mass timber manufacturers were shared on Wednesday when WoodWorks manufacturing partners took the stage to demonstrate their products, which range from cross-laminated timber (CLT), glue-laminated timber (glulam), and lumber to underfloor HVAC systems, connectors and fasteners. You can learn more about these products and contact manufacturers directly using the Manufacturer and Supplier Directory on WIN.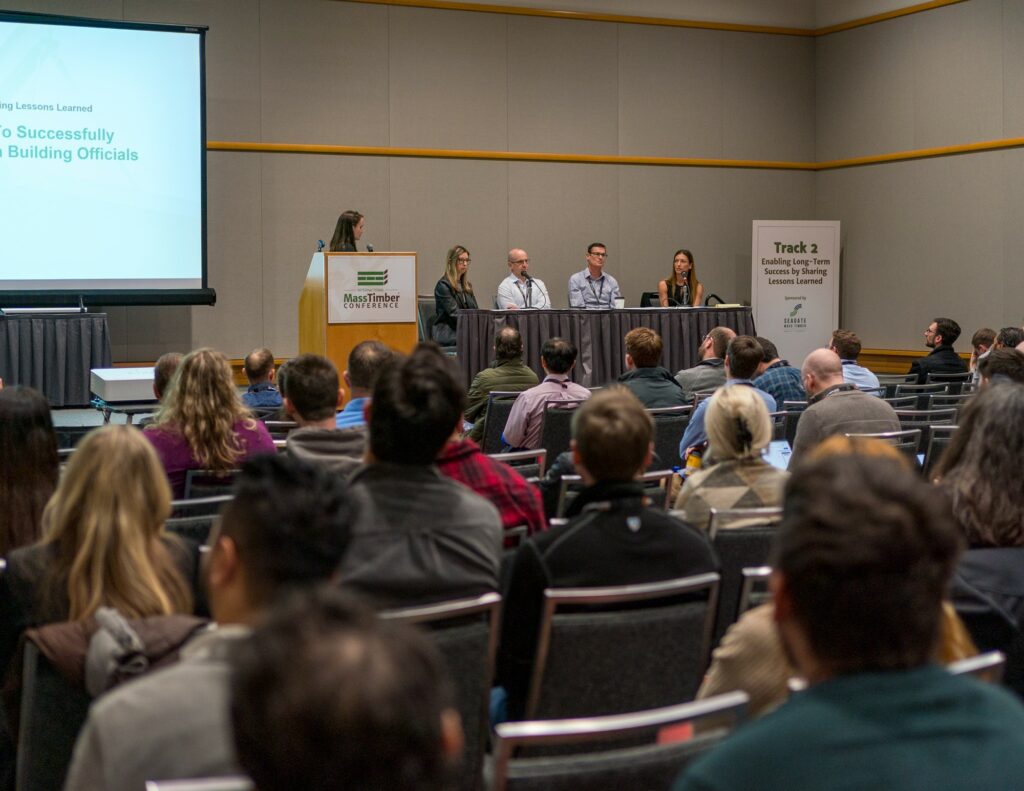 Mass Timber Knowledge Download: Get the Resources
Quick links below highlight resources shared at the Mass Timber Bootcamp and at WoodWorks' booths. If you have questions about resources or need assistance on your mass timber or light-frame wood project, get in touch with your Regional Director.
Resources for Designing with Mass Timber
Browse our robust library of wood design resources including solution papers, expert tips, and CAD/Revit Details:
See the status of tall mass timber buildings in the building code and get resources for designing a tall wood project:
Boot Camp-Featured Resources
Innovative Mass Timber Projects
Case studies detailing mass timber projects, based on interviews with their teams: