A Look Back at the 2022 International Mass Timber Conference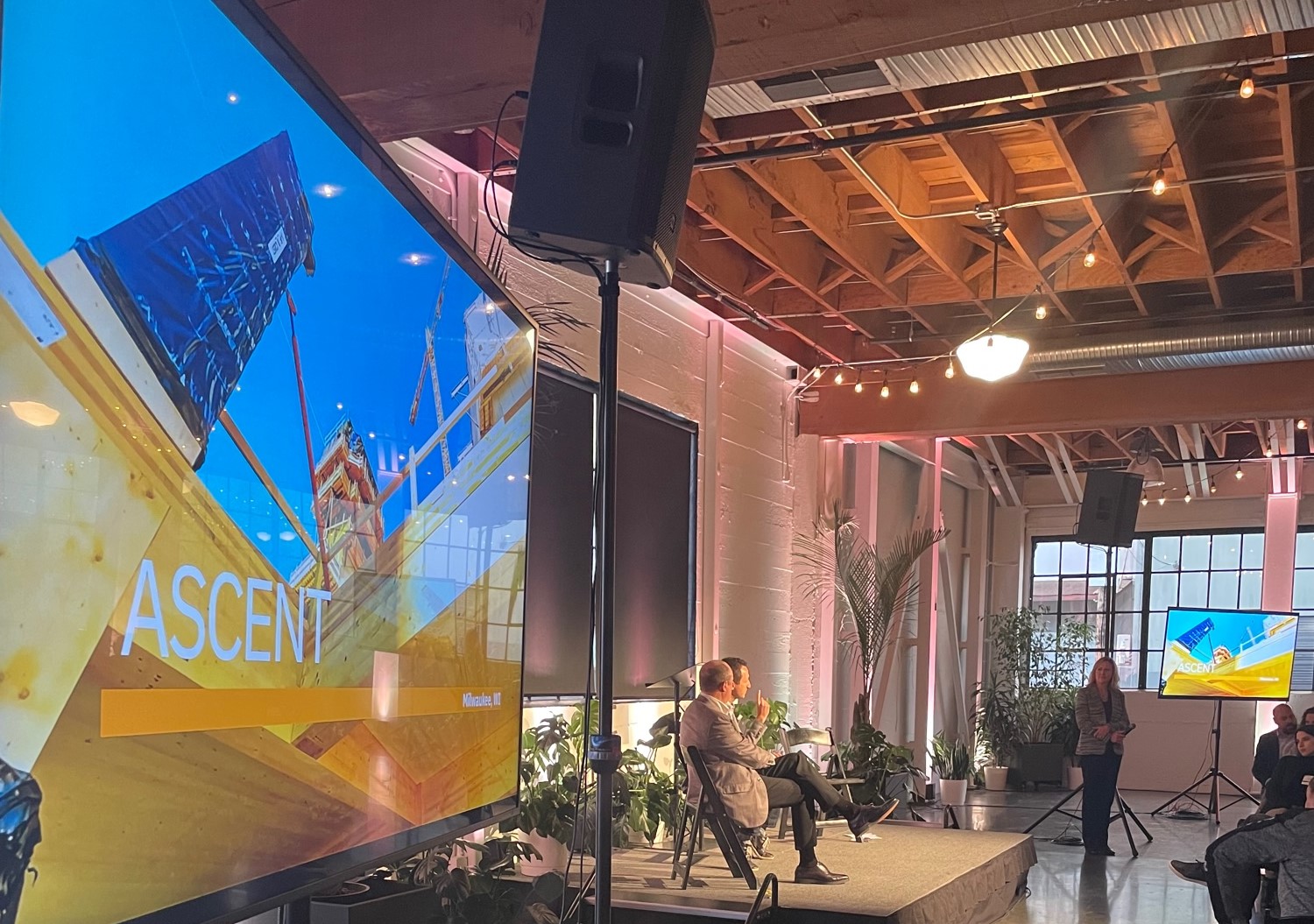 Apr 26, 2022 WoodWorks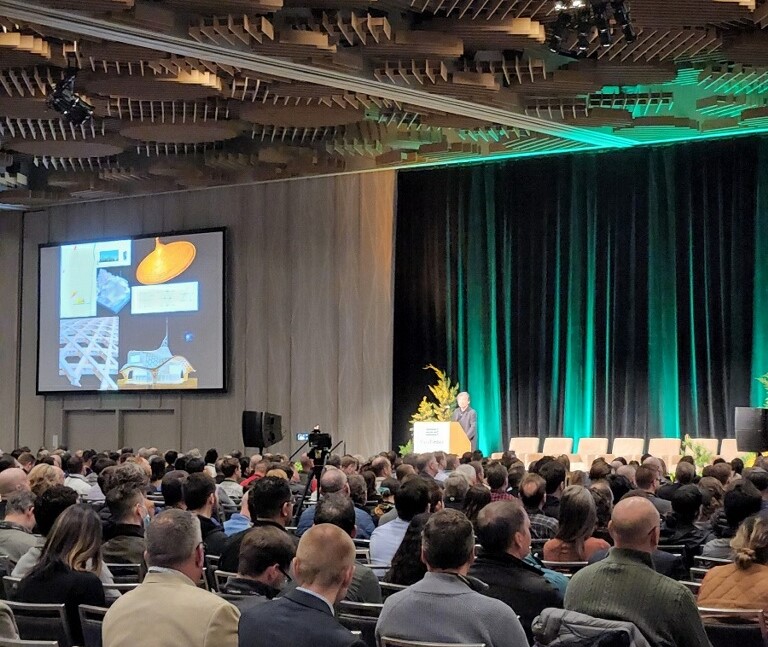 More than 2,000 timber enthusiasts gathered in Portland for the 2022 International Mass Timber Conference, and the excitement of being back in person after two years was palpable. We met with architects, engineers, developers, installers, forestry experts, manufacturers, and educators from across North America—all of whom shared an incredible passion for building with mass timber and the stories that come with it.
Shigeru Ban, Principal, Shigeru Ban Architects, and Jeanne Gang, Founding Principal, Studio Gang, gave captivating keynotes, with retrospectives on their remarkable achievements. With 60+ additional speakers and 100+ exhibitors, there was never a dull moment or shortage of mass timber knowledge sharing.
Keep reading for takeaways and links to mass timber building resources.
—
Mass timber is just beginning to realize its market opportunity
Mass timber is becoming a widely used structural material alongside concrete, steel, and light-frame wood. As of March 2022, in the U.S., 1,384 multi-family, commercial, or institutional mass timber projects were built or in design. The momentum is impressive considering there were only a handful of these projects a few years ago, and this is just the start. There are 17,000 commercial and multifamily buildings constructed in the U.S. each year that could be built with wood solutions under current building codes, and yet are not. The fact that the conference reached its maximum attendance (and had a wait list) demonstrates the keen interest we're seeing across the country from people who appreciate mass timber's attributes as well as the market opportunities.
Track the projects and developers taking mass timber the next level in the U.S. on this interactive project map.
When designing for mass timber, keep an open mind
For mass timber projects, selection of construction type is one of the more significant design decisions—and isn't always straightforward. Mass timber can be used in construction Types III, IV and V (and in some cases I or II). There are pros and cons to each, and you can't assume that one type is always the best option. At our pre-conference workshop, "A Mass Timber Clinic: Introducing and Mastering Design Topics," our team shared examples highlighting different paths to success and advised that, when designing low-to-mid-rise mass timber buildings in particular, Type IV (the common default) may not be the most efficient or cost-effective choice. We also reiterated that WoodWorks is here to help, so if you want assistance weighing your options, contact the regional director nearest you.
Moisture protection and proper site care
A unique aspect of mass timber is that it often serves as both structural framing and exposed architectural finish. Due to the nature of construction sites, sequencing, and schedules, all structural framing materials are exposed to the elements at some point. Although prefabrication does improve installation speed, materials must still be protected to minimize exposure to moisture and UV.
Several sessions during the conference highlighted the options for protecting mass timber during construction, and how to deal with the touchups that are often necessary before closing out a mass timber jobsite. Working with an installation crew that takes care to treat the timber elements properly goes a long way toward minimizing the need for this work.
Driving the point home, attendees also had the opportunity to tour the Adidas North American Headquarters, constructed during one of the wettest winters in Portland's history. (It also rained during the tour.)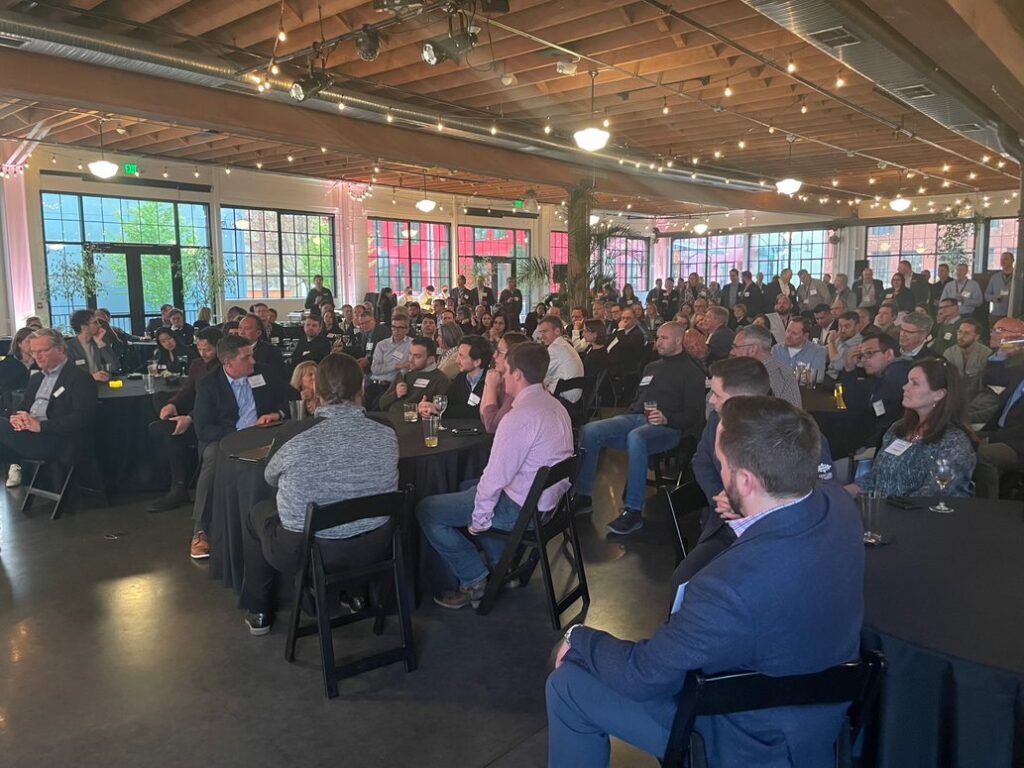 Keys to overcoming the barrier of risk
On Wednesday, we were lucky to be joined Tim Gokhman and his father, Boris Gokhman, for the WoodWorks Innovation Network (WIN) event. Tim and Boris shared a riveting story of the struggles they overcame to finance construction of the world's tallest timber tower, Ascent. They had great insights into what it takes to be pioneers in the industry, sharing the power of human connections as it relates to their project's financing, design, and construction. From a key individual at a lending program, to finding and working with experienced mass timber engineers, Tim and Boris articulated that realizing the world's tallest timber building would not have happened without the right team behind them. Their talk was a perfect complement to the event, since WIN has the mission of enabling these types of connections – profiling professionals who have worked on mass timber projects with the purpose of connecting them with developers who are looking to build an experienced team.
Learn more about Ascent's team on WIN, and earn credits on demand by watching this webinar, which includes a video tour of the project and Q&A with Tim and others on the project team, led by WoodWorks President & CEO, Jennifer Cover.
There is no shortage of resources for AEC professionals interested in mass timber
The mass timber community is eager to share knowledge contributing to the common good, helping others realize success with mass timber and meet design and sustainability goals. In addition to speaking and moderating sessions, our team released a number of new resources at the event, including: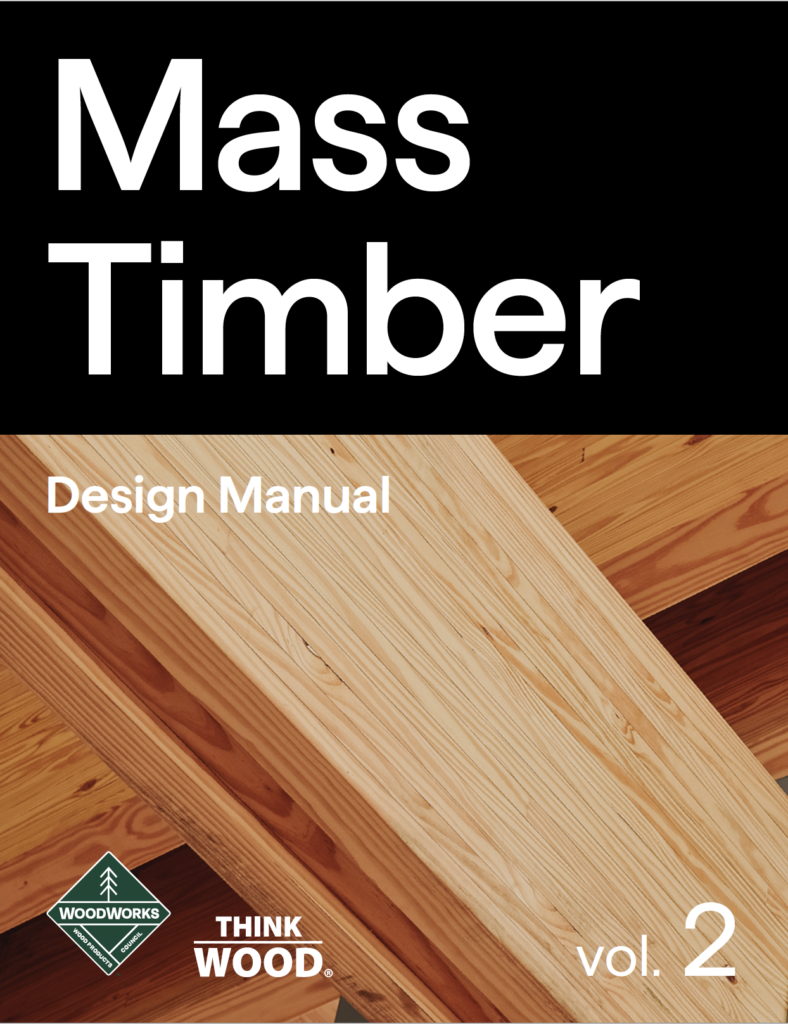 Mass Timber Design, From A to Z
WoodWorks and Think Wood released an updated version of the Mass Timber Design Manual, our most popular download of 2021. The Mass Timber Design Manual Vol.2 includes more than 30 pages of added content, including 10 new case studies of timber projects, expert Q+As, technical resources, and more.
Mass Timber Business Case Studies
Get real financial information on real deals! Three new business case studies have been added to this popular WoodWorks series: Adohi Hall at the University of Arkansas (the nation's first large-scale mass timber student housing facility), District Office (a six-story mass timber office project), and 1 De Haro (a four-story mass timber building with offices above light industrial space on the ground floor). Download the series in one convenient PDF.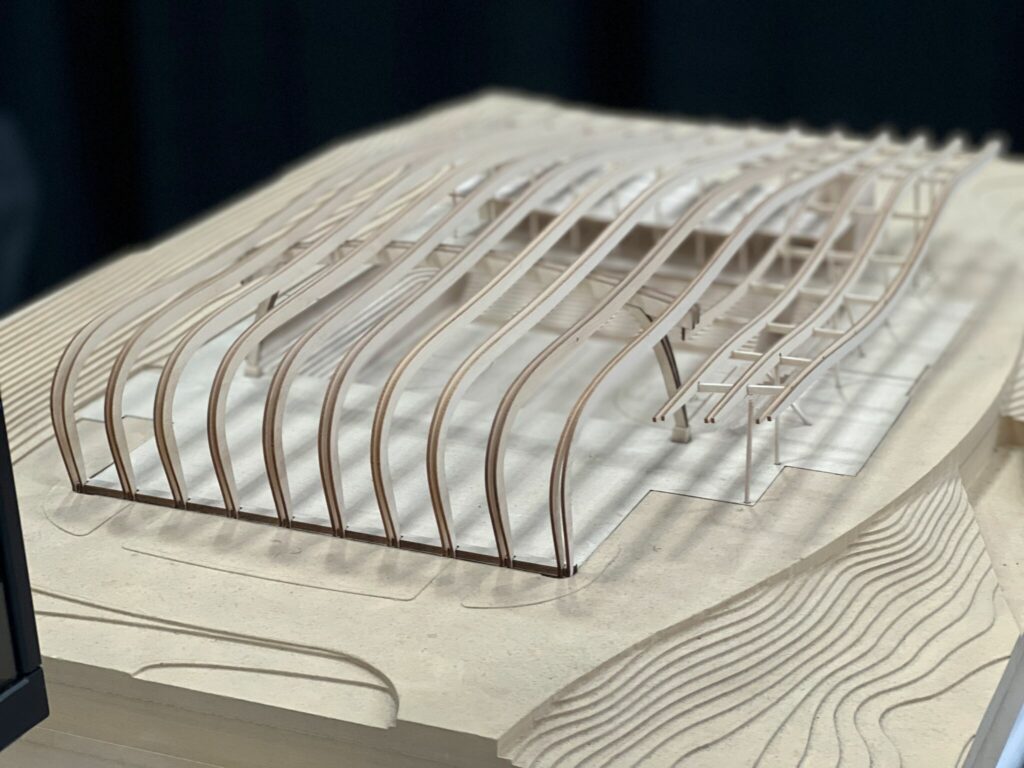 A Case Study Showcasing Mass Timber's Long Span Capabilities
Opsis Architecture had a stunning physical model of the Idaho Central Credit Union Arena at their conference booth (captured by StructureCraft, left). The soaring roof on this project demonstrates mass timber's impressive long-span capabilities and is the subject of a new WoodWorks case study released at the conference. Inspired by the rolling hills of the nearby Palouse, the undulating wood roof soars over the open space below, creating a visually stunning structure not typically associated with large arenas.
Understanding Differential Material Movement in Tall Mass Timber Structures
In the session, "Tall Mass Timber: Navigating Codes, Approvals and Details", Ricky McLain, PE, SE, Senior Technical Director – Tall Wood, presented a new WoodWorks solution paper, Differential Material Movement in Tall Mass Timber Structures. The paper analyzes the reasons for vertical movement (both short and long term), provides methods of calculating anticipated movement, compares calculated movement to on-site verified movement, highlights detailing options, and discusses vertical movement strategies implemented on tall mass timber projects completed in North America.
Considerations for Shaft Wall Solutions in Light-Frame and Mass Timber Buildings
It's common for mid-rise wood buildings to include shaft walls made from other materials; however, wood shaft walls are a code-compliant option for both light-frame and mass timber projects—and they typically have the added benefits of lower cost and faster installation. Another new release, Shaft Walls Solutions for Light-Frame and Mass Timber Buildings, provides an overview of design considerations, detailing options, and code requirements.
Optimize Cost and Design on Your Mass Timber Project
Lastly, the Mass Timber Cost and Design Optimization Checklists have been updated. WoodWorks developed these checklists to assist in the design and cost optimization of mass timber projects, helping to guide coordination between designers and builders (general contractors, construction managers, estimators, fabricators, installers, etc.) as they estimate and make cost-related decisions on a mass timber project. If you're planning a project, you won't want to miss this practical guide!
Ask us anything.
From concept to completion, we are passionate about helping developers and design/construction teams bring wood buildings to life. Our services include free project support for commercial and multi-family wood buildings, a robust nationwide education program, and a wide range of published resources. Our expertise covers all-wood building systems and technologies, and we're available to assist your team.