WoodWorks Innovation Network Expands to Reflect North American Market Growth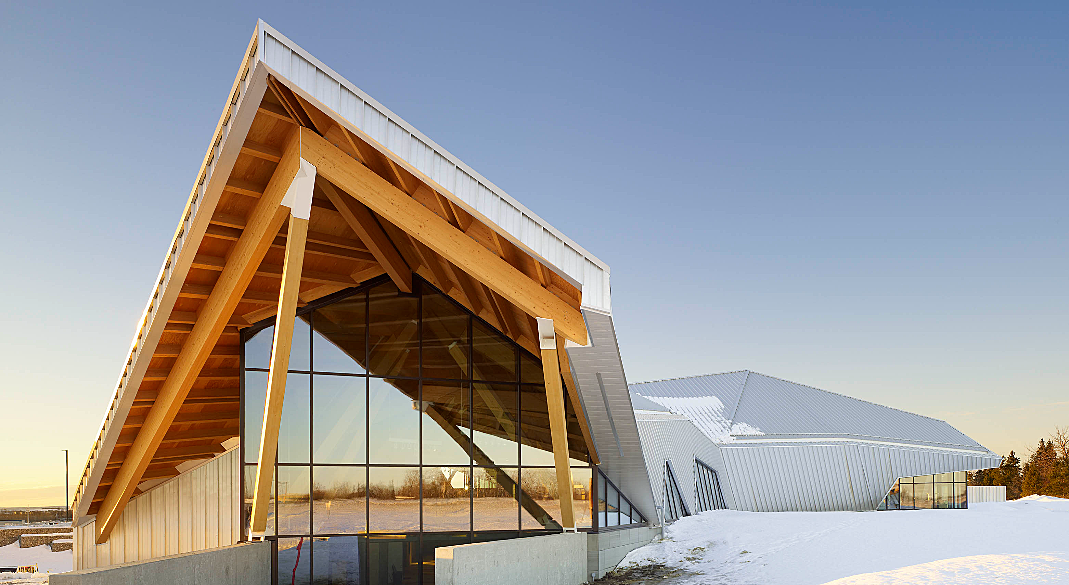 May 18, 2023 WoodWorks
Addition of Canadian projects makes platform a one-stop resource for mass timber and innovative light-frame projects and their design/construction teams
May 18, 2023 – Washington, D.C.: The WoodWorks Innovation Network (WIN) has announced a new partnership with the Canadian Wood Council that will expand the number of Canadian projects on WIN, making it a one-stop resource for users seeking to explore mass timber and innovative light-frame projects in North America and connect with experienced professionals. The momentum driving mass timber and taller light-frame buildings in Canada has been significant, and the expansion will enrich WIN with a greater variety of building types, project examples, and design/construction teams.  
A program of WoodWorks, WIN is a user-driven, online network of projects and professionals, created to facilitate collaboration among companies and individuals using innovative wood building systems and technologies. The addition of more Canadian projects enhances an already rich pool of shared knowledge and expertise.
"Our partnership with the Canadian Wood Council will increase WIN's usefulness as a resource for developers and AEC firms considering their own mass timber and light-frame wood projects," said Jennifer Cover, WoodWorks' President and CEO. "WIN was created to be a hub where anyone can see what's being built, network with experienced teams, and find potential partners for future projects. This expansion will give users more insight into the tremendous market activity we're seeing in Canada as well as the U.S., allowing them to leverage an ever-growing network of projects and professionals."
Phillip J. Currie Dinosaur Museum | Wembley, AB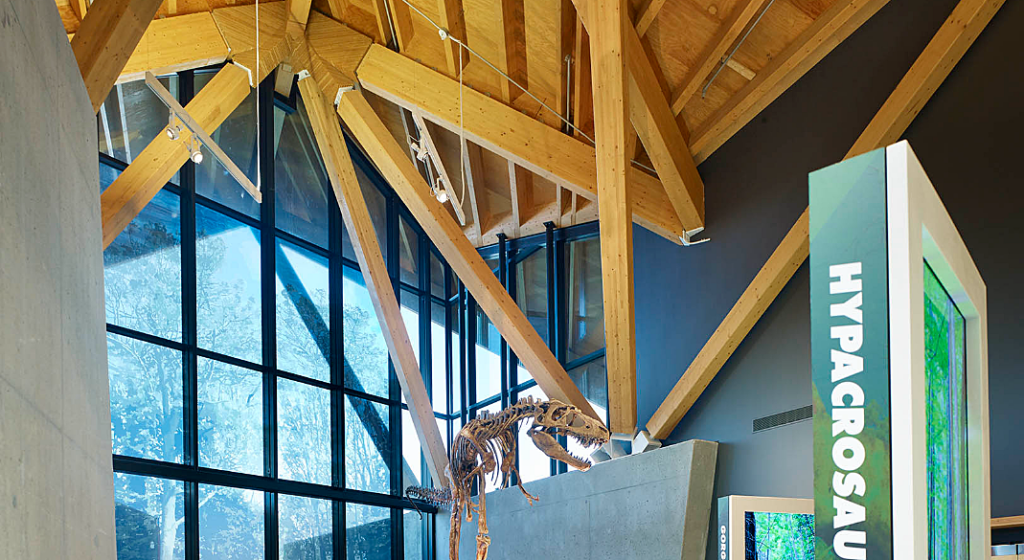 29,200 sq. feet | One story
The museum includes classrooms, a paleo lab, Canada's only theatre partnered with National Geographic, a restaurant, and a gift shop.

The museum is supported by exposed beetle pine timber beams and struts, with complex asymmetrical wood nodes – the intersecting connection points of these members – that create a very structurally sound building.
Vaughan Metropolitan Centre Bus Terminal | Vaughan, ON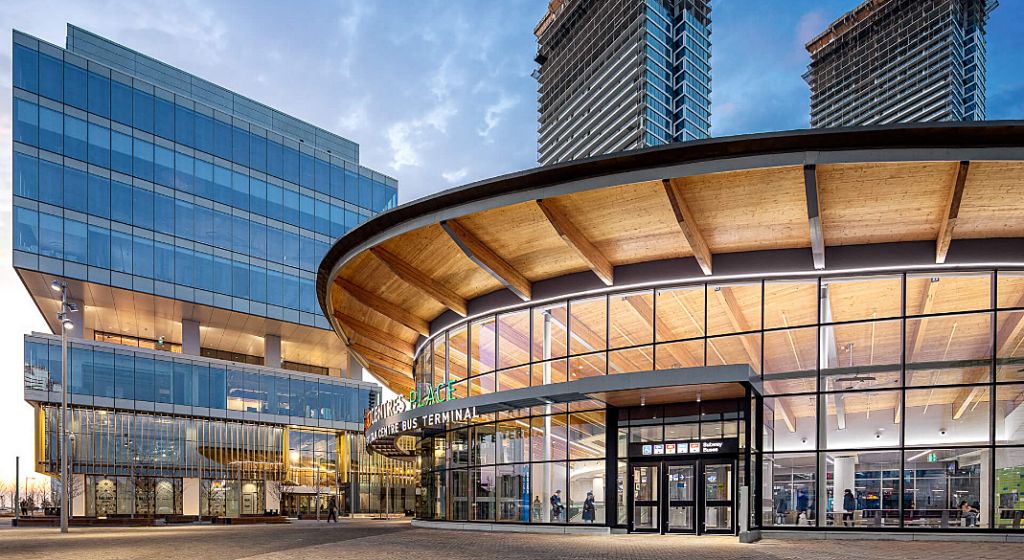 43,000 sq. feet | One Story
Shaped like a horseshoe in plan, it includes an enclosed pavilion and two exterior wings that surround the main bus loop.

At the front of the pavilion, where the glulam beams cantilever past the supports, a moment connection with internal epoxied steel plates provided a clean aesthetic.
Espace Philippe Boucher | Saint-Apollinaire, QC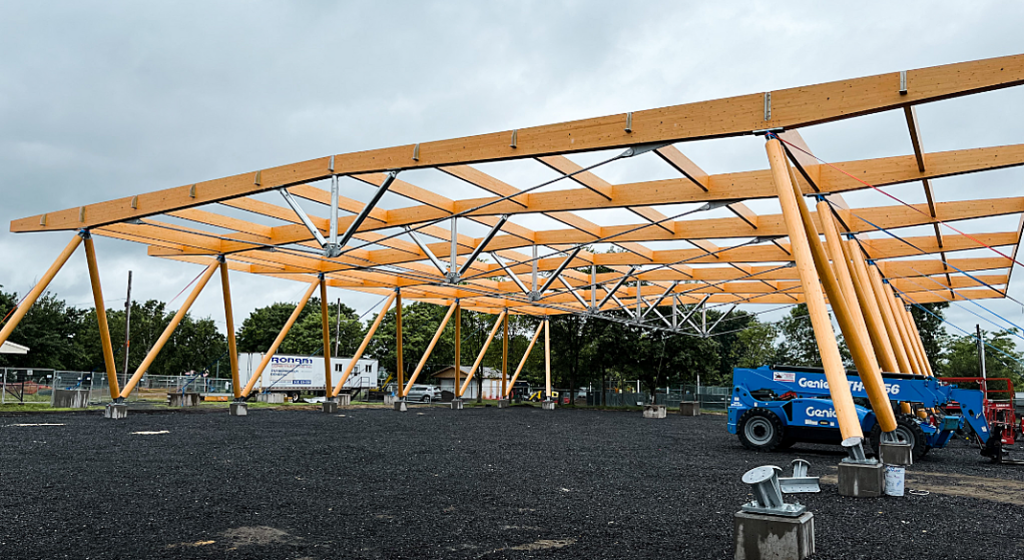 26,016 sq. feet | One Story
The 30-meter span roof is a hybrid wood-steel hybrid construction, rests on angled glulam columns that serve as bidirectional wind bracing system which extend to both sides of the playing surface.
Thanks to its special cooling system and roofing, the ice rink, which meets NHL dimensions, operates from November to March.
About WoodWorks
WoodWorks – Wood Products Council is a non-profit that provides education and free technical support related to the design, engineering, and construction of commercial and multi-family wood buildings in the U.S. Staffed with architects, structural engineers, and construction experts, WoodWorks has the expertise to assist with all aspects of wood building design. Major funding comes from the Softwood Lumber Board (SLB), USDA Forest Service, and Forestry Innovation Investment. For assistance with a project, visit www.woodworks.org/project-assistance or email help@woodworks.org.