January 2022 Newsletter Recap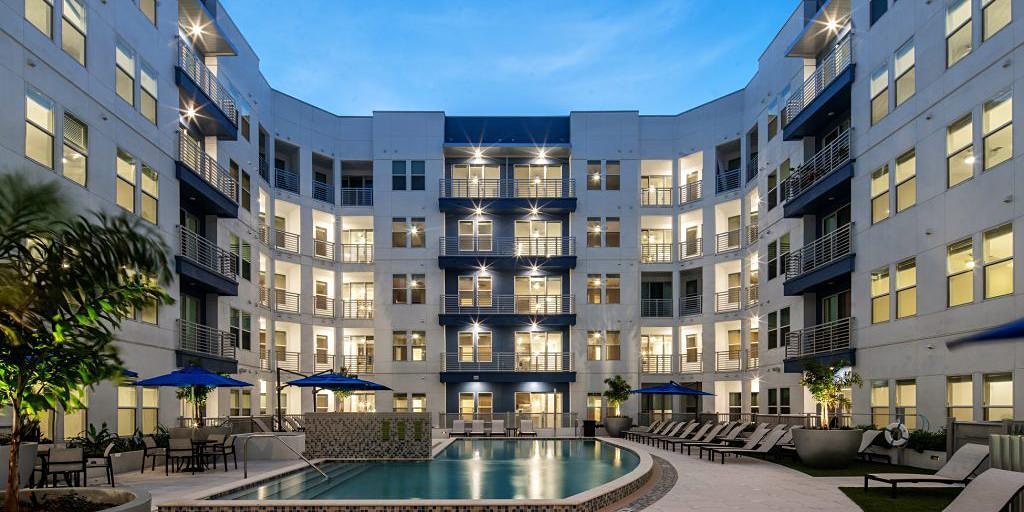 Jan 8, 2022 WoodWorks
Upcoming Online Education: 2-Part Detailing Series for Architects & Engineers
Deepen your knowledge of exterior wall detailing in this new series featuring our knowledgeable team d guest experts. Earn up to four credits for both sessions. (2.0 AIA/CES HSW LUs, 2.0 PDH credits or 0.2 ICC credits each)
Part 1 | Fire-Resistance Detailing for Wood-Frame Exterior Walls
February 9, 2022, 11:00am – 1:30pm ET
Part one will provide practical information for designers seeking to better understand exterior wall fire design approaches and how to apply them to projects, addressing frequent questions and areas of confusion that range from appropriate assembly options to how to detail floor-to- exterior wall conditions in Type III and Type V structures.
Part Two | Zero Lot Line Buildings and Wrap-Around Structures: Detailing Exterior Walls
February 16, 2022, 1:30 – 4:00pm ET
Part two will cover important considerations for zero lot line projects like protected openings, limitations on the use of combustible materials, and constructability issues associated with building enclosures. It will also examine the wrap around—or donut—style of construction, with an emphasis on fire and enclosure detailing where the wood-frame multi-family portion abuts the concrete parking garage.
Attend both sessions and save:
2 sessions for $60; 1 session for $40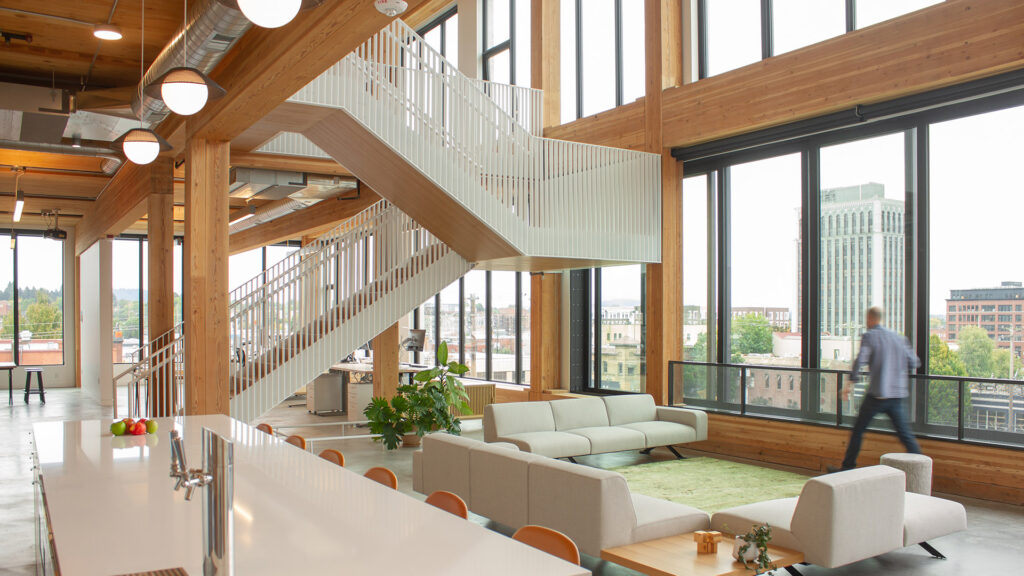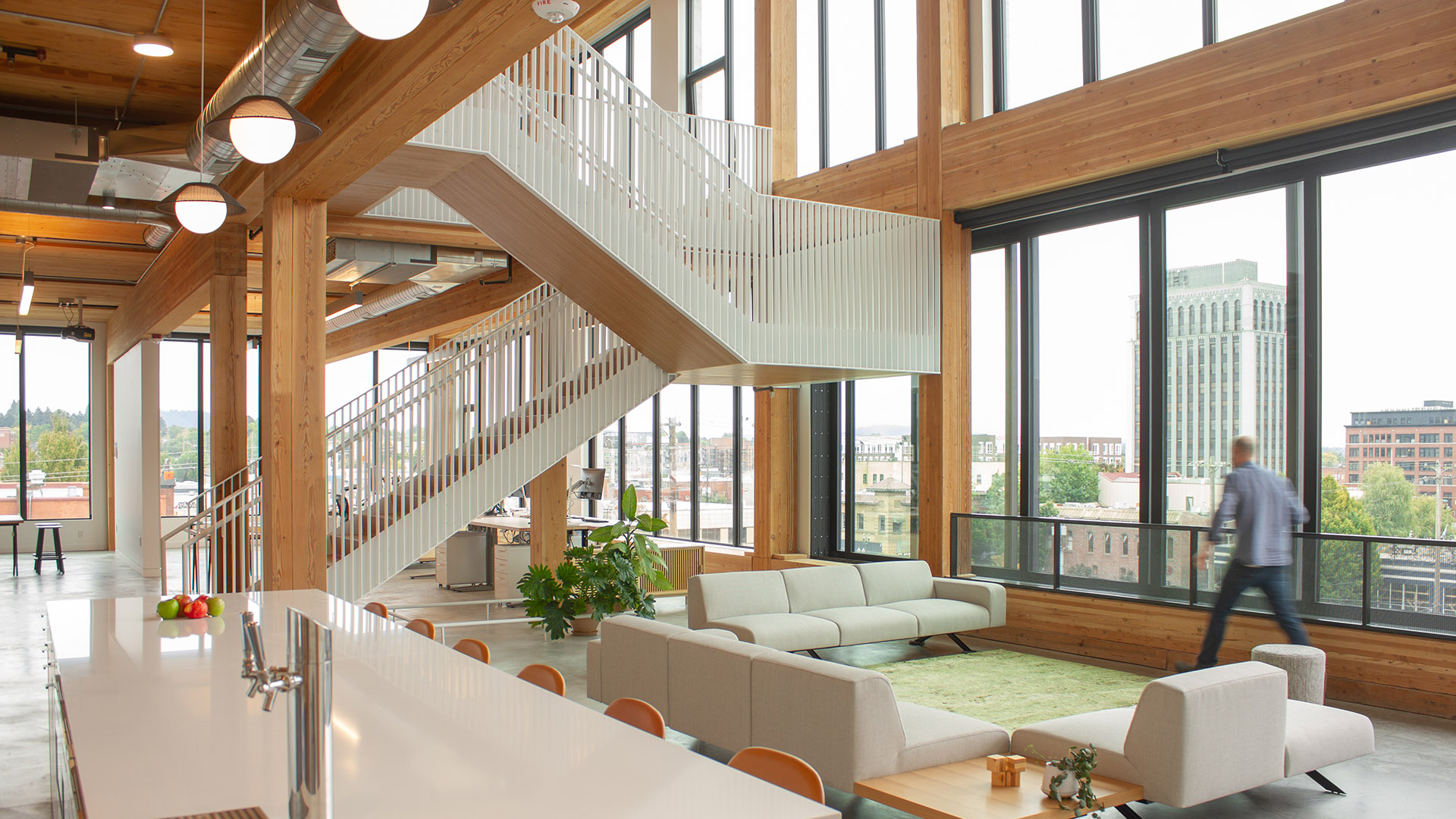 Developer Chooses Mass Timber to Differentiate Speculative Office Project
District Office, Portland, OR
"District Office is unique in that it is a viable, speculative commercial office built using mass timber. It's a beautiful building, certainly, but the fact that it also made financial sense sets this project apart."
– Brad Nile, Project Executive at Andersen Construction
Portland-based Hacker became its own client when the leadership team decided to make District Office their new home. But, since Hacker would only occupy two of six stories, the design also had to meet development goals associated with a speculative office building—including market appeal, adaptability, and cost.
Glue-laminated timber (glulam) beams and columns support 3-ply cross-laminated timber (CLT) panels in this six-story structure, which has five stories of offices above ground floor retail and restaurant space, plus underground parking. All wood members are left exposed to the interior.

Resources for the Future of Wood Building
We have staff dedicated to topic areas where the need for resources is great and ongoing. This month we're highlighting mass timber building insurance, which our team has taken a lead role in addressing since it became evident that insurance companies are reluctant to provide insurance for mass timber buildings.
WoodWorks offers two avenues to assist project teams who face insurance issues: Individual project support (at no cost) and published resources. Visit the Mass Timber Building Insurance page to learn more and to download resources like our in-depth paper, Insurance for Mass Timber Construction: Assessing Risk and Providing Answers.

More Upcoming Events
International Mass Timber Conference (co-produced by WoodWorks)
In person & online | April 12–14, 2022 | Portland, OR
PLUS – WoodWorks is bringing a new pre-conference workshop to the Mass Timber Conference. On Tuesday, April 12, "A Mass Timber Clinic: Introducing and Mastering Design Topics" will help you gain a full systems understanding of the unique design considerations associated with mass timber structures.
Learn more about the pre-conference event presented by WoodWorks and register for the 2022 International Mass Timber Conference here. (You'll have the option to add the pre-conference WoodWorks event during general checkout.)