Expert Tips
Tall Mass Timber Trends and Exposed Timber Allowances
Recent code changes and jurisdictional approvals provide for greater areas of exposed mass timber.
Based on the locations of tall mass timber projects to date, adoption of the tall timber code provisions in the 2021 International Building Code (IBC) is a helpful catalyst, but not the only factor in determining where such projects are realized. For example, projects such as 80 M Street in Washington, DC, INTRO in Cleveland, Ascent in Milwaukee, and 11 E Lenox in Boston were approved by local officials despite those jurisdictions not having prescriptive code recognition of the new tall mass timber construction types (IV-A, IV-B and IV-C). Meanwhile, the City of Denver and states of California, Washington, Virginia, Utah, Oregon, Georgia and Idaho (among others) have adopted the provisions—but this hasn't spurred a markedly greater number of projects. (For the status of code allowances for tall mass timber, see this WoodWorks article.

Although much attention has been paid to the potential for very tall timber buildings, most projects (over 80%) that are in design and utilizing the new construction types are in the six- to 12-story range. One of the main motivations for the use of mass timber is the aesthetic appeal and market differentiation of exposed wood when compared to traditional construction with dropped ceiling finishes. Under two of the new construction types, designers may expose some or all of the timber framing to the interior of the building, which is likely driving much of the interest in projects at the six- to 12-story scale. Type IV-C construction permits full timber exposure for buildings up to eight stories and 85 feet (multi-family occupancy). Type IV-B construction permits partial timber exposure for buildings up to 12 stories and 180 feet. Type IV-A does not permit any exposed timber for buildings up to 18 stories and 270 feet.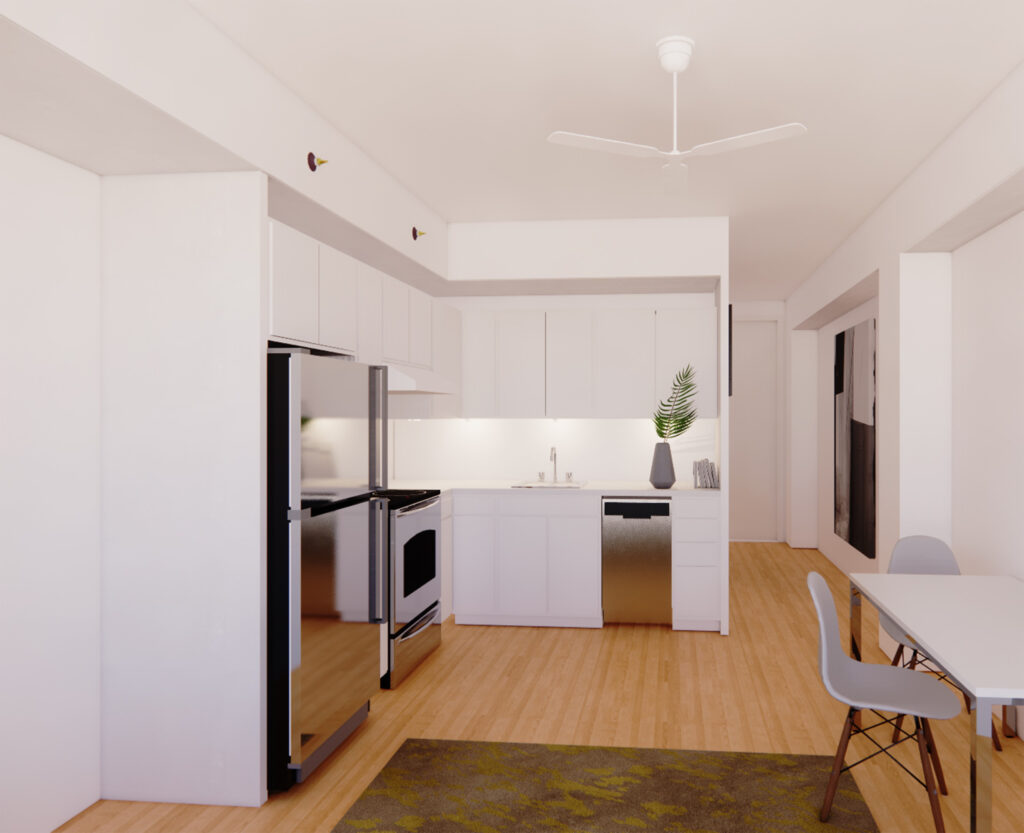 Under the 2021 IBC, Type IV-B construction allows partial exposed timber—20% of ceilings, 40% of walls, or a combination thereof as a function of the dwelling unit floor area or fire area. However, these limits are perceived by many to be restrictive, and it is not uncommon for designers of Type IV-B projects to request variances allowing a greater percentage. Of note is the fact that most tall mass timber projects feature timber beams, columns, floor panels and roof panels, but not walls, so the focus is primarily on maximizing ceiling/beam/column timber exposure.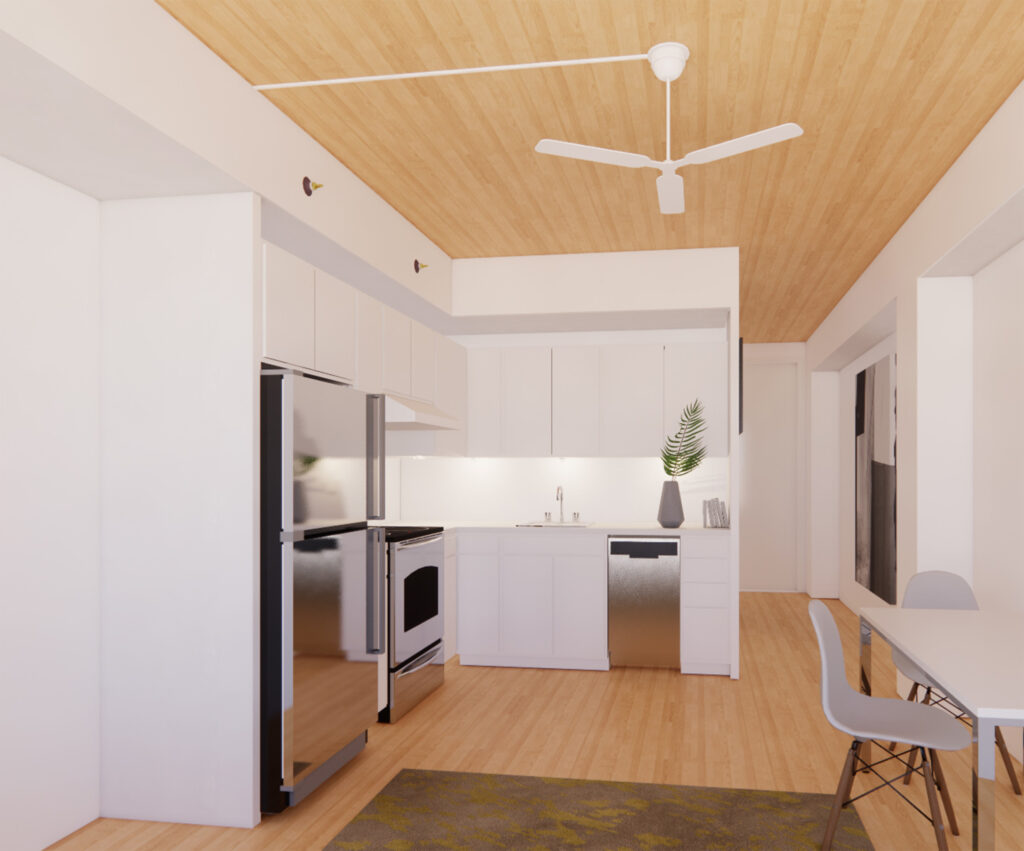 The appropriate amount of exposed timber in a given building is somewhat dependent on its use and occupancy. For example, multi-family buildings (even mass timber buildings) commonly include dropped ceilings in areas of higher MEPF concentration—e.g., over kitchens, bathrooms and corridors. In mass timber projects, this leaves the potential for living rooms, dining rooms and bedrooms to remain exposed, and 50-60% of ceiling timber exposure is often seen as the desired amount. On the other hand, the designer of an office building is likely to want more exposed timber as mechanical services may also remain primarily exposed, reducing the need for dropped ceilings.
Example of a Type IV-B multi-family building granted a variance to expose approximately 50% of its timber ceilings and beams – INTRO is a nine-story, 115-ft-tall project in Cleveland with nearly 300 dwelling units, first-floor retail, and an event space on the top floor. The upper eight stories consists of glulam beams and columns supporting CLT floor and roof panels. Beams, columns and the ceiling side of CLT panels were exposed primarily in living and bedroom areas, while dropped soffits and ceilings were utilized over kitchens and baths. The wood portion of the project sits on top of a one-level concrete podium. Example of a Type IV-B office building granted a variance to expose 100% of ceilings and beams – Approved but not yet under construction, Flatworks will be an eight-story, 100-foot-tall office building in Portland, Oregon. Designers utilized the City of Portland's appeal process to submit supporting documentation (here and here) that allows them to expose 100% of the timber.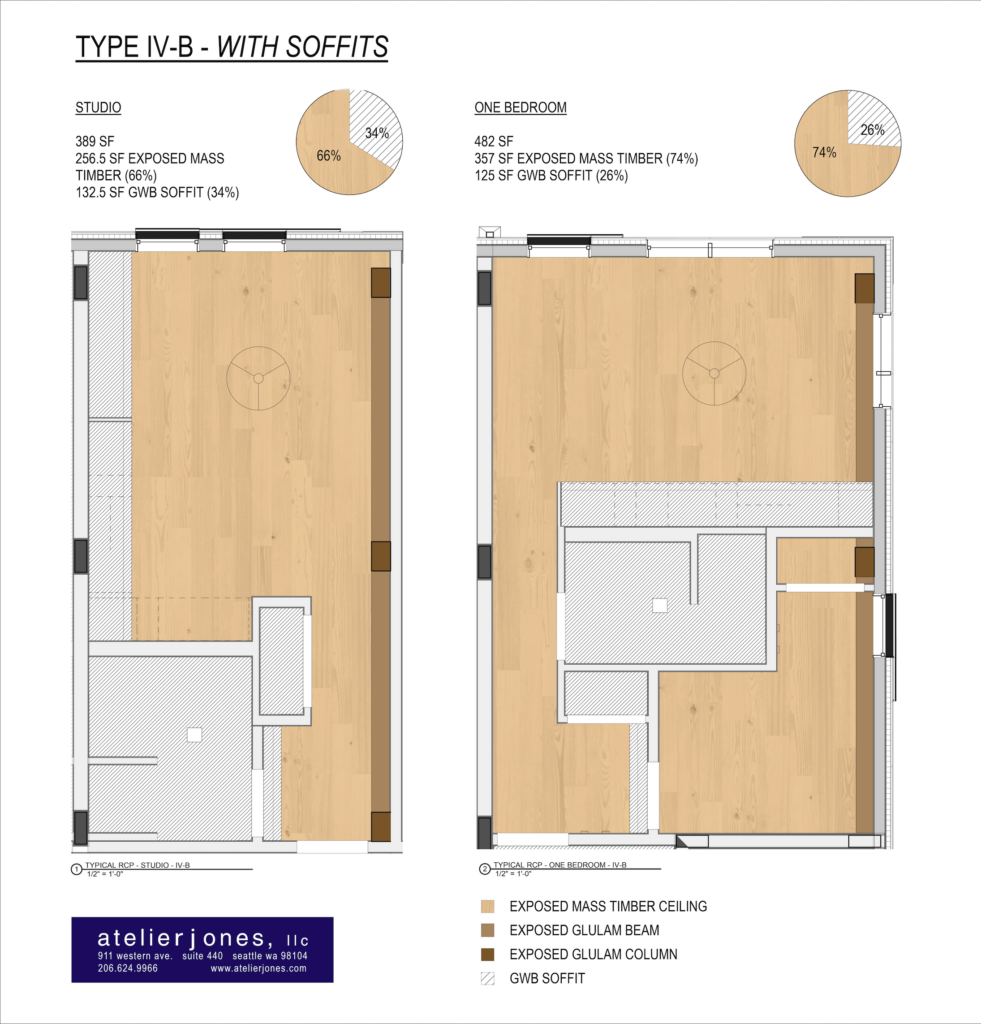 Example reflected ceiling plans for a Type IV-B multi-family dwelling unit with partial exposed timber
Further to this topic, the American Wood Council coordinated a group of interested parties and stakeholders who collaborated on a series of five full-scale mass timber compartment fire tests at the Research Institute of Sweden (RISE) in 2019 and 2020. The main goal was to identify safe limits of exposed mass timber surface areas that correspond with performance criteria used to establish the three tall mass timber construction types. Further information about the testing program is available here, and the final testing report is available here. The results of the tests were used to support a proposed change to the 2024 IBC, which will permit 100% exposed timber ceilings in Type IV-B projects (as a function of the dwelling unit floor area or fire area). The following information is from the reason statement supporting the proposed code change:
These fire tests demonstrated that the proposed amounts of unprotected areas on the ceiling and walls, as a function of floor area, can be safely implemented while still achieving the performance objectives specified by the ICC Tall Wood Building Ad-Hoc Committee in the development of the tall building. Specifically, Test 1 of the test series conducted at RISE involved a ceiling in which 100% of the area was unprotected mass timber. Tests 2 and 5 had unprotected mass timber on 100% of the ceiling area, in addition to unprotected areas on the two opposing side walls, equivalent to 78% of the floor area. These tests exhibited satisfactory performance in that no significant fire re-growth was observed and temperatures within the compartment decreased continuously from the time of the fully-developed phase until the end of the four-hour test.
The proposed increase of allowable unprotected area on the ceiling from 20% to 100% is consistent with the configurations tested in all of the RISE tests. Although the RISE data also justifies a higher percentage of unprotected area of the wall, this proposal leaves the limit at 40% of the floor area for the sake of conservatism.
This proposed code change has been approved and will be incorporated in the 2024 IBC. The code language for allowable timber ceiling exposure in Type IV-B construction as it will read in the 2024 IBC is available here. Several jurisdictions such as the City of Denver, City of Dallas, State of Oregon and State of Washington are already in the process of incorporating these new timber exposure limits in their building codes, and several design teams are looking to utilize the new limits in project-specific discussions with their local building officials.