Expert Tips
Design of Mass Timber Exposed to Weather and Wetting Cycles
Pressure Treatment and other Options for CLT, NLT and Glulam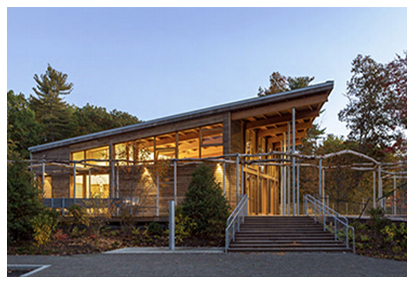 While some mass timber products such as cross-laminated timber (CLT) cannot be pressure-treated as the panel sizes are too large for current manufacturing equipment, other wood options can often be used for the desired application.
Applications for Pressure-Treated Wood
Pressure treatment is usually considered for unprotected applications exposed to weather and wetting cycles, such as an exterior, uncovered part of a building, or in areas with high termite risk. For example, the 2018 International Building Code (IBC) requires that naturally durable or preservative-treated wood be used for:
Posts or columns supporting permanent structures that are supported by a concrete or masonry slab footing in direct contact with the earth, unless they meet certain requirements (Section 2304.12.2.2)
Supporting members for balconies, porches and other permanent appurtenances where they are exposed to weather without adequate protection, except in certain regions (Section 2304.12.2.3)
Structural glulam members that are exposed to weather and not fully protected from moisture (Section 2304.12.2.4)
Note that preservative treatment in the IBC refers to pressure treatment as opposed to surface treatment (e.g., spraying or brushing).
Pressure-Treated Wood Options
Since CLT cannot be pressure-treated, it is not feasible for exterior unprotected applications exposed to weather and wetting cycles. This is borne out in the 2018 National Design Specification® for Wood Construction (NDS®), Section 10.1.5 Service Conditions,which states: "Reference design values reflect dry service conditions, where the moisture content in service is less than 16%, as in most covered structures. Cross-laminated timber shall not be used in higher moisture service conditions unless specifically permitted by the cross-laminated timber manufacturer." Section 1 of ANSI/APA PRG-320: Standard for Performance-Rated Cross-Laminated Timber has similar language regarding the use of CLT in dry service conditions.
For applications exposed to weather and wetting cycles, such as exterior decks subjected to direct or wind-driven rain, heavy timber framing that is made from durable species or pressure-treated, such as pressure-treated decking and pressure-treated glulam framing, have been successfully used for decades.
For exterior protected applications, such as a balcony covered by a waterproofing membrane, pressure-treated lumber can be used for an added layer of protection in case of leaks and water exposure to the framing.
Mass timber panels that are mechanically fastened, such as nail-laminated timber (NLT), could theoretically be assembled from durable wood species or pressure-treated lumber, although WoodWorks is not aware of any US examples to date. In applications exposed to weather and wetting cycles, such as exterior surfaces subject to wind-driven rain, moisture can become trapped between mechanically-fastened laminations; it is therefore inadvisable to use NLT under these circumstances without careful consideration.
For more information on pressure-treated wood, the American Wood Protection Association (AWPA) and Western Wood Preservers Institute (WWPI) websites both offer numerous resources.
Best Practices for Moisture Protection
Whenever wood is exposed to the weather, it is important to consider local factors such as wind-driven rain, frequency of wetting, and sun exposure. More detailed information and tips on designing for wood durability can be found in the Think Wood CEU, Designing for Durability, and the American Wood Council publication, Design of Wood Frame Structures for Permanence. This Expert Tip covers the use of wood in interior applications with high moisture such as pools and aquatic centers.
The Nail Laminated Timber U.S. Design & Construction Guide discusses moisture in several sections, including: Section 2.6 Durability Considerations, Chapter 5 Enclosure, and Section 7.6 Construction Phase Moisture Management. The Guide for On-site Moisture Management of Wood Construction by FPInnovations also provides best practices to mitigate construction moisture for both mass timber and traditional wood construction.
For additional questions on designing for durability, contact help@woodworks.org.
Photo
At Walden Pond Visitor Center, pressure-treated southern yellow pine is used on the exterior for decay resistance. Maryann Thompson Architects, photo Chuck Choi