Expert Tips
CLT Layups and Basis of Design for Gravity Load Applications
Using layups defined in the ANSI/APA PRG 320 Standard for Performance-Rated Cross-Laminated Timber (CLT) as the basis for design.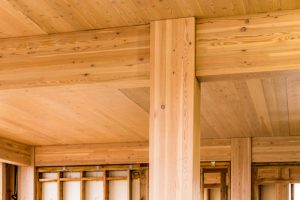 Cross-laminated timber is an engineered wood component manufactured from dimension lumber or structural composite lumber to create large, flat panels of solid wood. It is a member of a new class of massive (or "mass") timber products—i.e., large-dimension engineered structural wood components that complement the dimension sawn lumber, solid sawn timbers, and structural composite lumber products frequently used in building framing. Other forms of mass timber construction include nail-laminated timber (NLT), dowel-laminated timber (DLT), glued-laminated timber (GLT) panels, and solid panels of structural composite lumber materials. The size and strength of mass timber structural components make them an alternative to concrete, steel and masonry components for many building applications.
In North America, the availability and acceptance of CLT are relatively new; however, adoption is happening quickly considering the speed at which material design standards and building code modifications typically occur. The ANSI- approved product standard, ANSI/APA PRG 320 Standard for Performance-Rated Cross-Laminated Timber, provides a basis for standardization of CLT quality, manufacturing and structural properties for structural building applications in North America. Starting with the 2015 International Building Code (IBC), CLT is identified as a structural material, defined in IBC Chapter 23 with reference to the PRG 320 standard. CLT framing is allowed within Construction Types III, IV, and V, and for roof members in Types I and II roof assemblies requiring a 1-hour fire-resistance rating or less.
PRG 320 defines how the structural properties of the CLT panels are to be determined through a qualification process. The PRG 320 standard also defines, as examples, seven stress grades of CLT panels based on commonly available visually-graded and machine-rated lumber species groups and grades. CLT grades E1 through E4 use machine stress-rated lumber for layers parallel to the major axis. CLT grades V1 through V3 use visually-graded lumber for layers parallel to the major axis. The predefined structural capacities of the CLT example grades are found in the PRG 320 standard and can be useful as a reference; however, not all of the example grades and layups in the standard are being manufactured at this time. Manufacturers also have additional CLT grades and layups with structural properties certified through the PRG 320 qualification process—i.e., there are many more layups available than just those suggested. Due to this, consideration of the CLT products being manufactured is recommended in order to see what specific grades and layups are available.
If you need assistance finding CLT manufacturers to consider, most of the manufacturers in North American are WoodWorks National Partners and listed here. Or, feel free to ask for assistance by contacting your local WoodWorks Regional Director (map here) or the WoodWorks help desk at help@woodworks.org.
For further discussion on CLT floor and roof panel design, check out this article.
Photo: Marcus Kauffman, Oregon Department of Forestry