Free Passes Available for the 2022 International Mass Timber Conference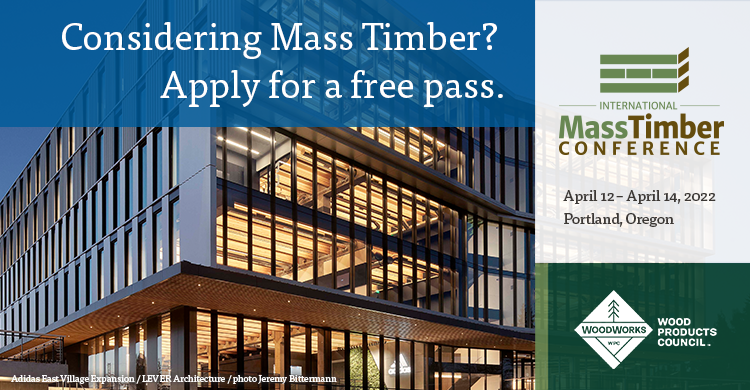 Feb 2, 2022 WoodWorks
Design & construction professionals considering mass timber for a project can apply for a FREE pass* to the 3-day, multi-track International Mass Timber Conference starting April 12. The application deadline is February 18, 2022.
Complete the form below to apply for free conference registration – a $895 value! Full Conference Pass includes: 2022 Mass Timber Report, 60+ presenters, 100+ exhibits, 2 receptions, breakfast & lunch on Wed. and Thurs. Please note: Free conference pass does not include airfare, accommodations or other travel expenses. Preference will be given to first time attendees of the mass timber conference who are currently working on a mass timber project.
A Look at the 2022 Mass Timber Conference
Get the latest information on mass timber in mid- to high-rise buildings at the annual International Mass Timber Conference, co-produced by WoodWorks & the Forest Business Network. This conference is one of the largest gatherings of mass timber experts in the world, and WoodWorks is creating a special track of credited seminars on key topics for architects, engineers and code officials (AIA/CES HSW LUs, PDH and ICC).
Featuring
4 education tracks + 60+ expert presentations
100+ exhibitors + network opportunities
Building tours
Keynote Presentations
World-renowned architects, Shigeru Ban and Jeanne Gang, will give keynote presentations on the Wednesday and Thursday mornings of the event.
100 free passes are up for grabs. Winners will be notified on March 4th via email.
*Preference will be given to first time attendees of the mass timber conference who are currently in the design phase of a mass timber project.
Not Interested in the Giveaway?
You can still register for the 2022 International Mass Timber Conference. Click the link below to learn more.
---
New This Year: Pre-Conference Workshop Presented by WoodWorks
A Mass Timber Clinic: Introducing and Mastering Design Topics
Tuesday, April 12, 2022 | Attendees will earn 4.0 AIA/CES HSW LUs, 4.0 PDH credits or .04 ICC credits
As mass timber transitions from novelty to mainstream, more architects and engineers are finding they need a full systems understanding of the unique design considerations associated with this type of structure. Intended for those new to mass timber design, or those looking to refresh their design knowledge, this pre-conference workshop will take a step-by-step approach to the practical design and engineering aspects of mass timber buildings. Breakout sessions at the 2022 International Mass Timber Conference will examine specific design and construction topics in depth, and this pre-conference seminar will equip attendees with the baseline experience needed both to expand their knowledge in the main track sessions and start their own mass timber designs.
Topics will include mass timber products, code compliance, fire resistance, new tall mass timber construction types, structural design and layout, connection detailing, acoustics, MEP integration, and more. Project examples will be included throughout to highlight and emphasize design solutions implemented on real structures.