Back to school, and the classroom is mass timber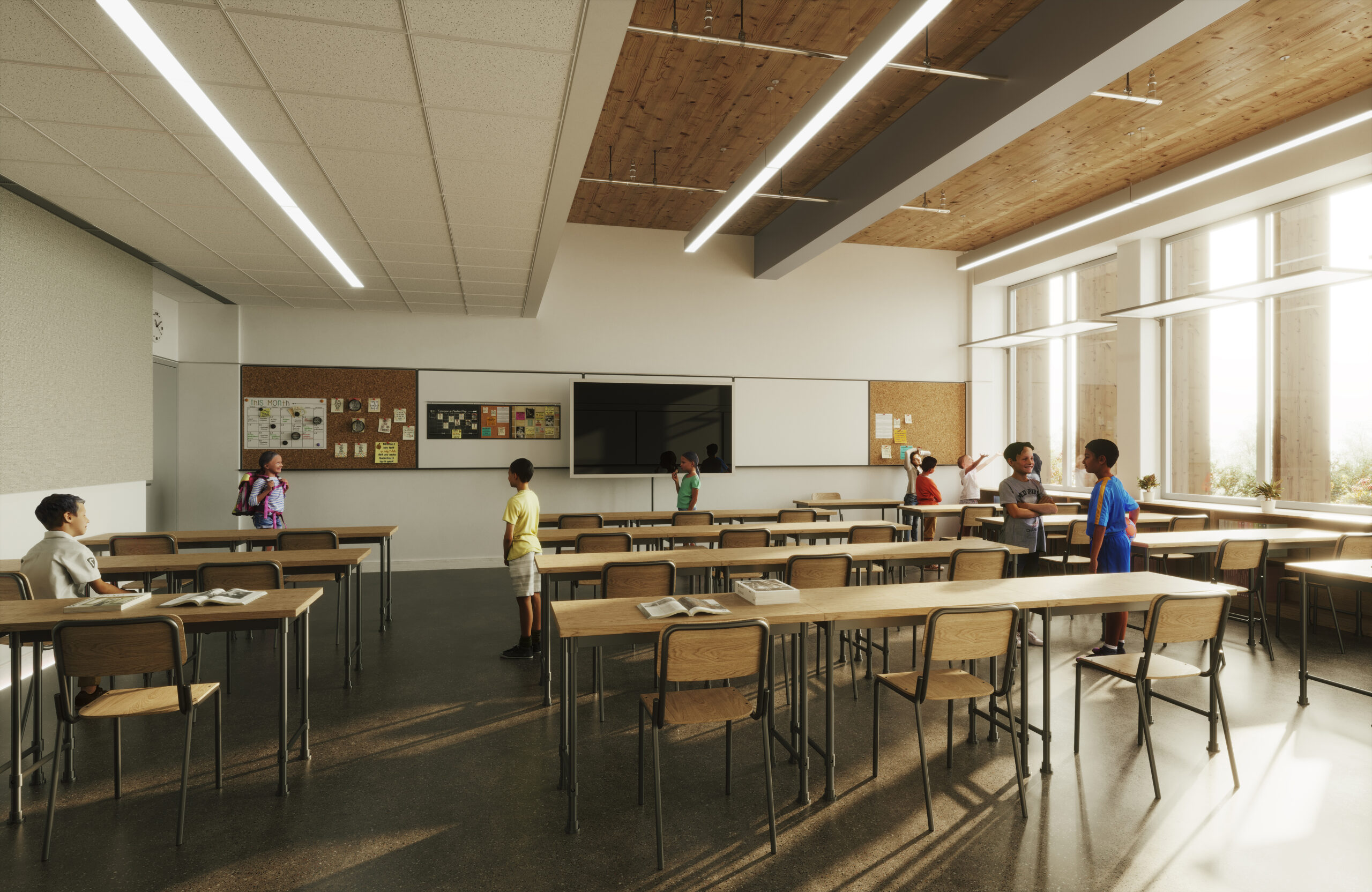 Sep 20, 2023 WoodWorks
Evergreen Charter School and Wood as a Catalyst for Learning
Schools represent about 15% of the market for built mass timber projects in the U.S.—ranking less than business and assembly occupancies and more than multi-family. If looking at mass timber projects in design, schools' share shrinks to 4%. These numbers underscore the enormous potential for wood in schools, but the real opportunity lies in the value mass timber brings to educational environments. Wood's biophilic properties have special significance when creating indoor spaces that foster student and teacher well-being, and construction speed yields high rewards for projects being constructed on a strict back-to-school timeline. Increasingly, with competitive pricing in a growing market and an urgency to design more sustainable buildings, teams are proposing mass timber on projects with confidence that it will pencil out.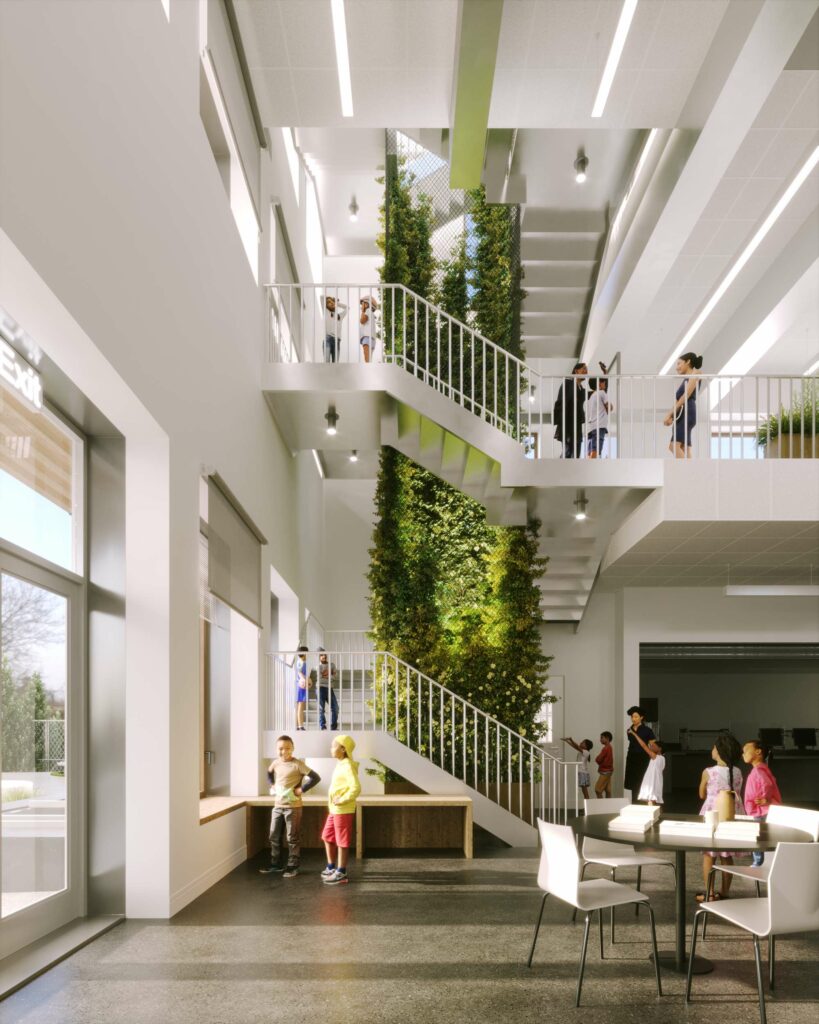 Evergreen Charter School
Hempstead, NY
Size: Five stories, 85,000 SF
Construction Type: III-A
Expected Completion: 2024
Sustainability Targets: LEED Gold, Net-Zero Ready
Materials:
Mass Timber
Cross-Laminated Timber (CLT)
Glue-Laminated Timber (GLT or glulam)
Hybrid (wood with steel or concrete)
Wood-Concrete Composite Systems
Open-web trusses

Photo: Martin Hopp Architect
The Evergreen Charter School in Hempstead, NY is a notable example, demonstrating the value of mass timber in modern school design. The project was designed by Martin Hopp Architect (MHA) with Odeh Engineers and is being built by Consigli. It's also among six winners of the Softwood Lumber Board (SLB) and USDA Forest Service (USDA) 2022 Mass Timber Competition: Building to Net-Zero Carbon.
Located in one of Nassau County's most impoverished communities, Evergreen Charter School provides underserved and marginalized youth and families an alternative to local public schools where minorities have historically experienced low graduation rates. The mission for the new building was to create a sustainable school with a robust education program that doubled as an asset for the entire community. Planned for completion in 2024, the project is one of the East Coast's first cross-laminated timber (CLT) schools.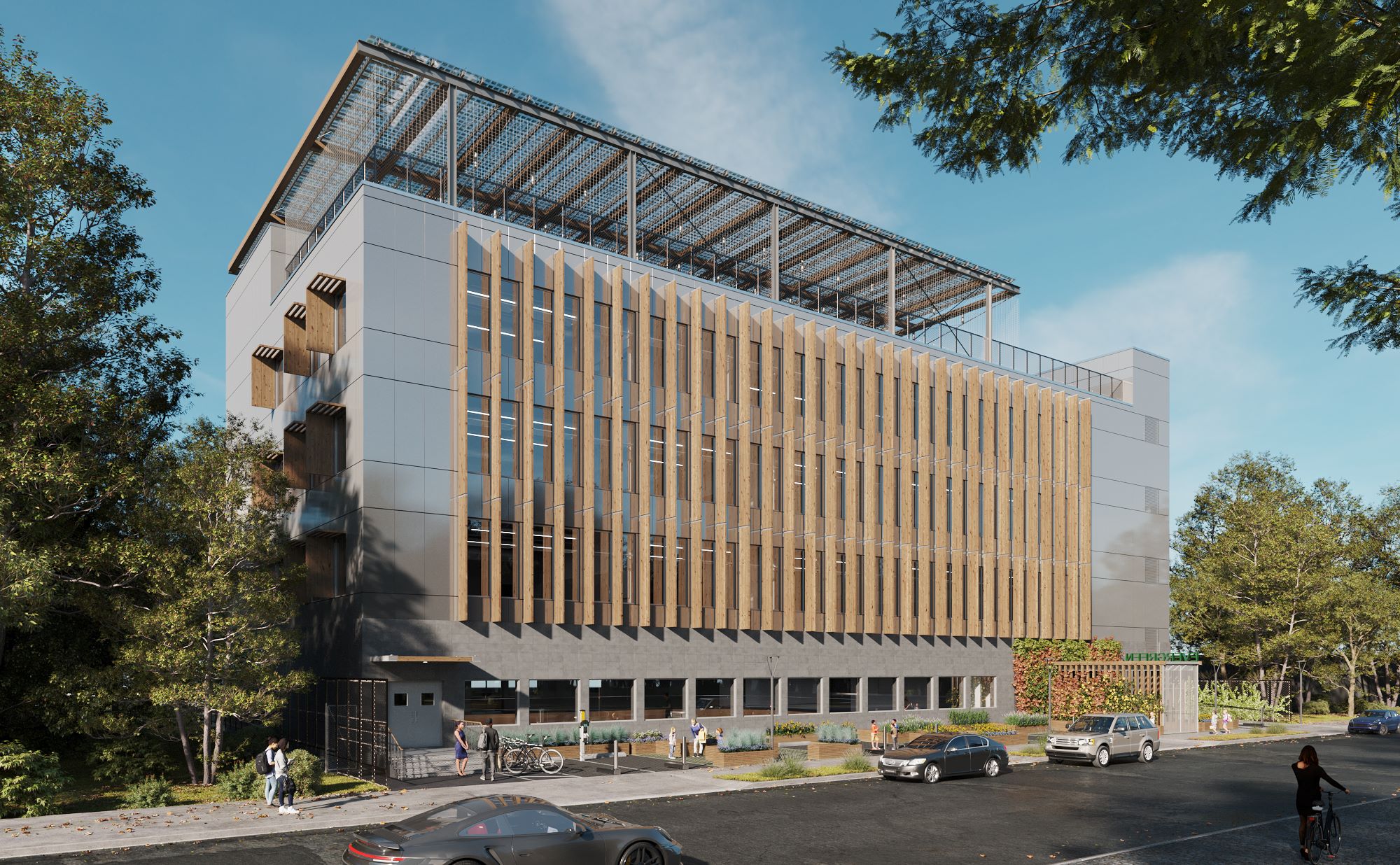 Evergreen had issued a second round of RFPs for the project as the world—and the design community—grappled with adapting to the unprecedented nature of life during (and after) a pandemic. "There was a realization of just how important schools are to our communities," says Martin Hopp, MHA. "I think that we all saw in COVID, right when the schools shut down, how affected we all were and the challenges that came out of that. The Evergreen RFP came to us as we were responding to how the world had changed, and we wanted to address key issues.
Feeling confident that the mass timber market had developed enough to warrant competitive bidding, the design team proposed a mass timber design to accomplish Evergreen's project goals. Their progressive vision for incorporating the material resonated with the school's stakeholders. "The client team was excited to investigate it further with us," Hopp says. "They hadn't even realized wood was an option."
As the project evolved, there was a collective buy-in from the client, design team, and contractor, Consigli, that mass timber would be a key part of the project. "When one person is pursuing this type of vision on their own, it's a much harder job. Once others join you in your advocacy, things start to happen," says WoodWorks Regional Director for New York, Momo Sun, who has been close to the project. "Evergreen benefits from a design team and client who are totally in sync, and it's been a wonderful thing to witness and support."
Designing for the Community, with the Community
Since the five-story building's intended use was for an educational facility during the day and a community center at night and on weekends, community engagement was paramount to the design process. MHA worked as strategic partners with Evergreen, leading workshops and visioning sessions to understand the client's priorities and how a building could embrace them.

The building is comprised of three floors of classrooms and flexible learning spaces, two cafeterias, a gymnasium, a soccer field, gardens and other outdoor spaces.
One of the building's two cafeterias is on the rooftop, a full mass timber structure with wood columns, trusses, and CLT roofing elements.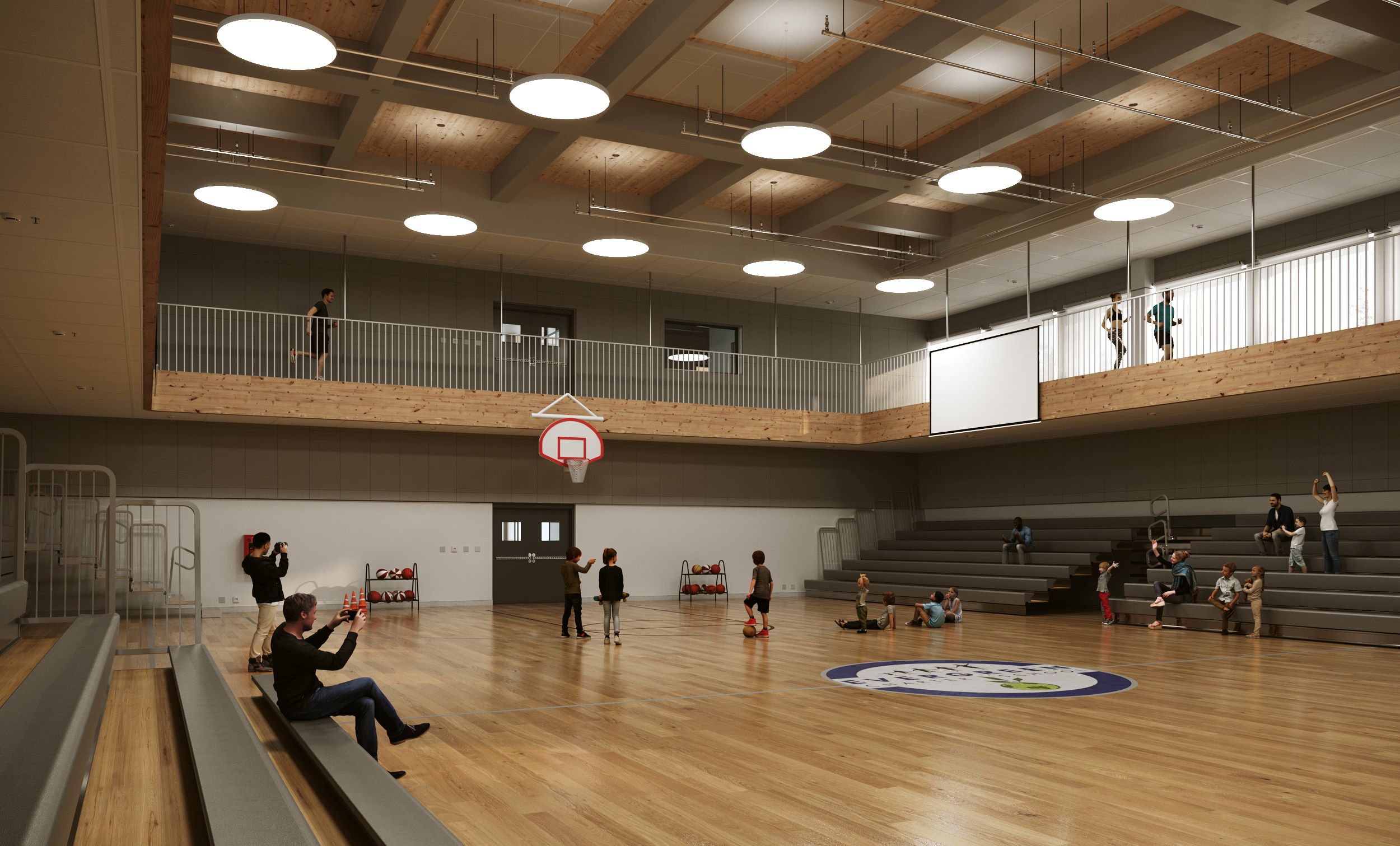 MHA approached the design from the inside out, focusing first on the school's nucleus—the classroom. "We built consensus on the ideal classroom through charrettes with teachers and students," says Hopp. Along with the building's dual purpose as a school and community hub, Evergreen plans to increase enrollment, making flexibility a priority for the design. "We identified institutional growth targets, key program elements that the school most valued, and opportunities for spaces to serve as community facilities when school was out of session."
Deciding where mass timber was most appropriate in the design led to similar conversations about other materials. "The wood enables you to reframe your decision-making process, unlike if your starting point was a more traditional classroom," explains Hopp. They decided on a hybrid solution, featuring exposed wood ceilings and exposed concrete floors. "Schools are a tough environment from a wear and tear standpoint. The challenge was figuring out how to include the most exposed wood but maintain low maintenance costs with durable high-traffic areas."
Sustainability as a Learning Objective
Biophilic design elements are increasingly used in the built environment to boost occupant well-being through connection to nature, and a growing body of research asserts that wood is especially impactful when it comes to focus and productivity. Since students spend most of their days inside, the design team capitalized on wood's biophilic elements and emphasized air quality and lighting to ensure an ideal environment for students and staff.
"When you look at the rendering for our classroom, and you see wood in the space, it's a completely different environment. It looks so much more positive than a typical classroom," says Hopp. "The data is clear that students and staff perform better when they're in healthy environments—and wood is a part of that solution. Ultimately, if we can design better-quality environments for the same price, that equals better performance, lower rates of absenteeism, etc. that's the key metric we're designing for."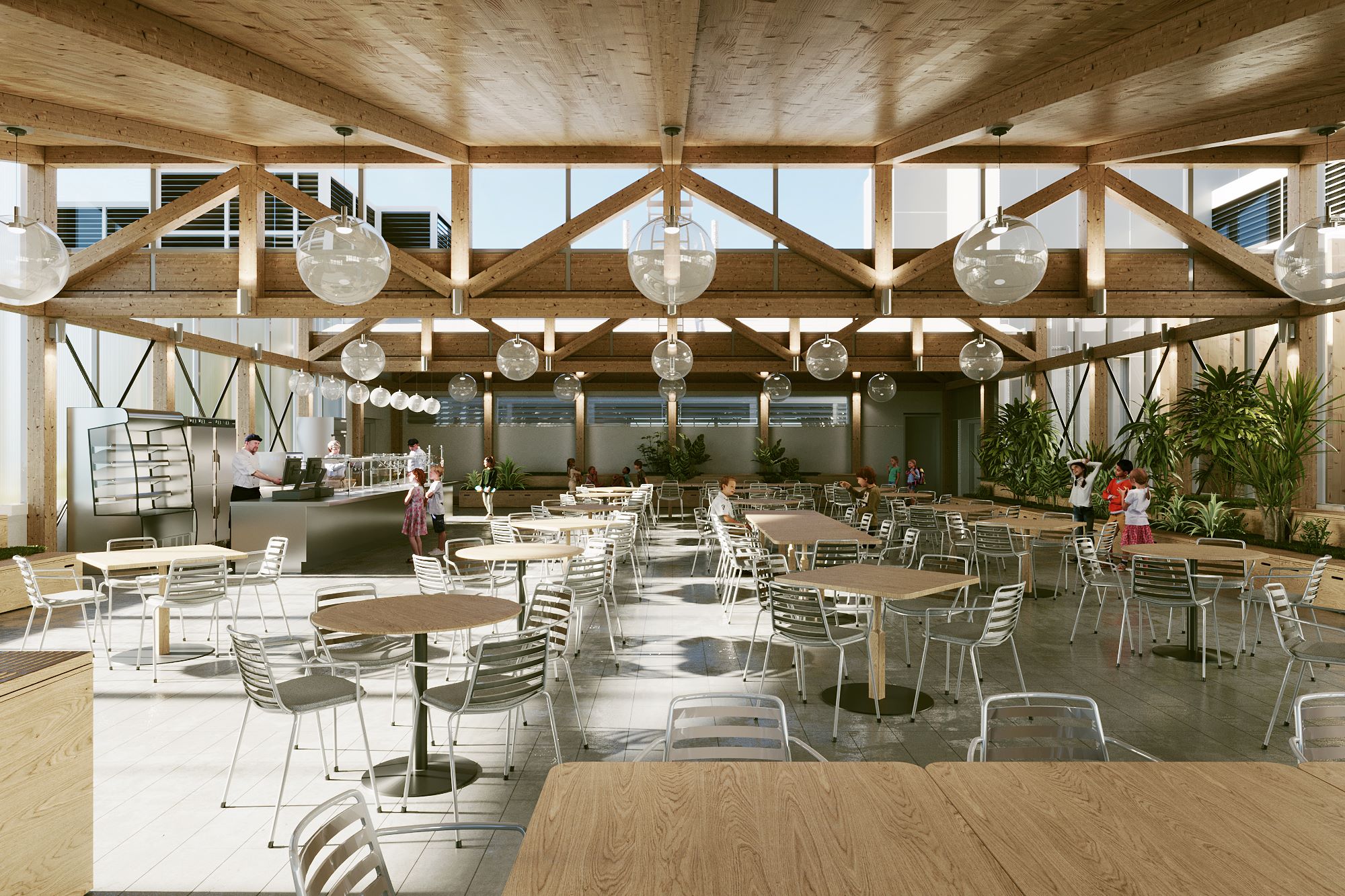 The building design includes a high-performance envelope and mechanical system that will perform at 20% above code, providing an ideal environment for students and staff. It also maximizes natural light in the classrooms, ensuring high indoor air quality (IAQ) and acoustics.
The sustainability benefits of wood, including low embodied carbon and carbon storage, cemented Evergreen's enthusiasm for mass timber and supported their green ethos—something that distinguishes them as a charter school and attracts like-minded families.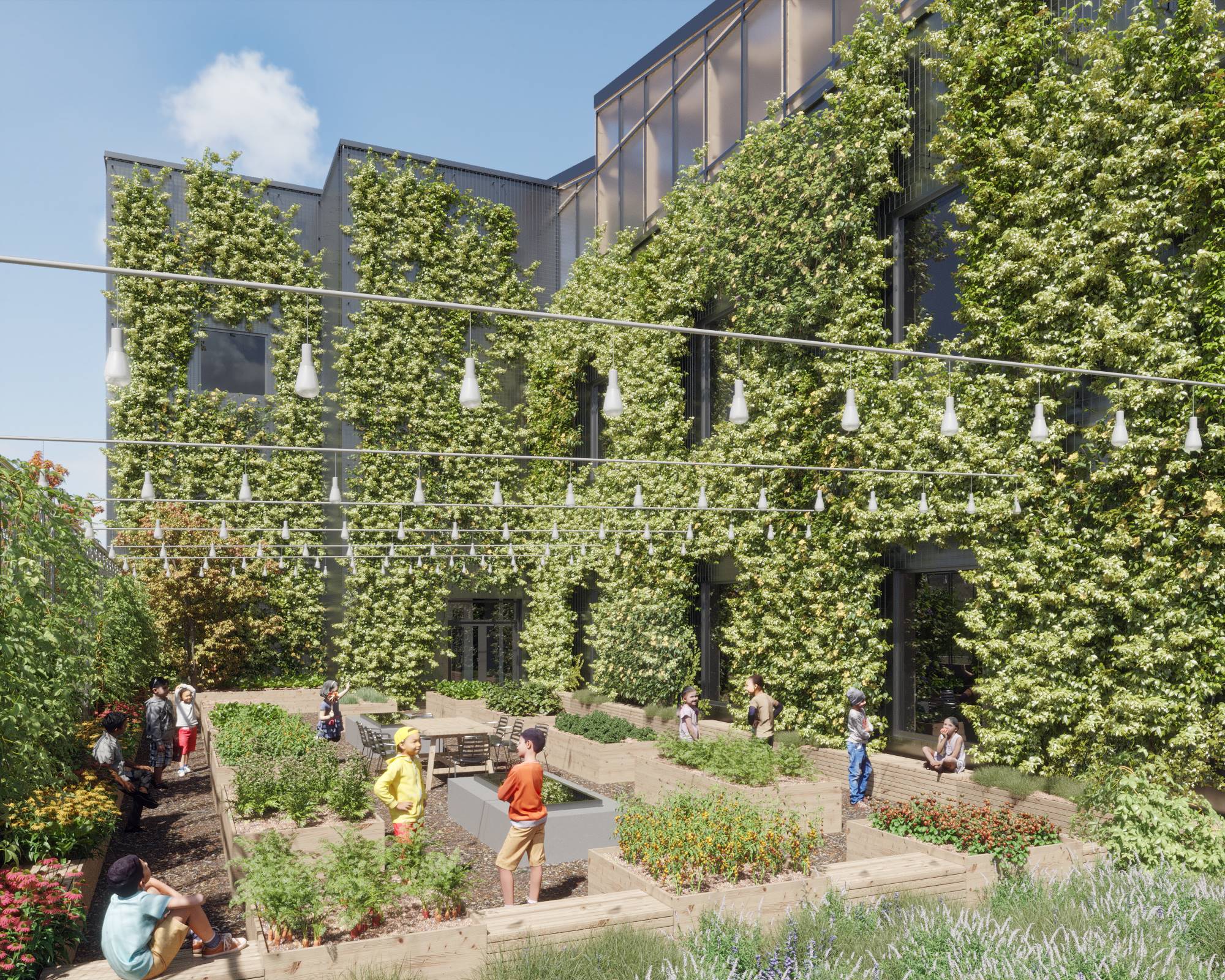 Beyond the indoor programs, MHA turned outdoor spaces into gardens and gathering spots for students to relax, socialize, or study.
They've set a LEED Gold target, with plans for the school to be net-zero-ready. Beyond these sustainability outcomes, Evergreen intends to use the building as a teaching tool, initiating discussions about the impact of C02 on the world and embodied carbon in construction. "Making a direct connection between environmental topics and the classroom you're learning in gives new meaning to a space," shares Hopp, "It tells the students they are valued and part of something ambitious."
Evergreen's commitment to the environment and community is summed up most poignantly in the school promise, which reads, "I promise to respect myself, respect others, and respect the earth's resources."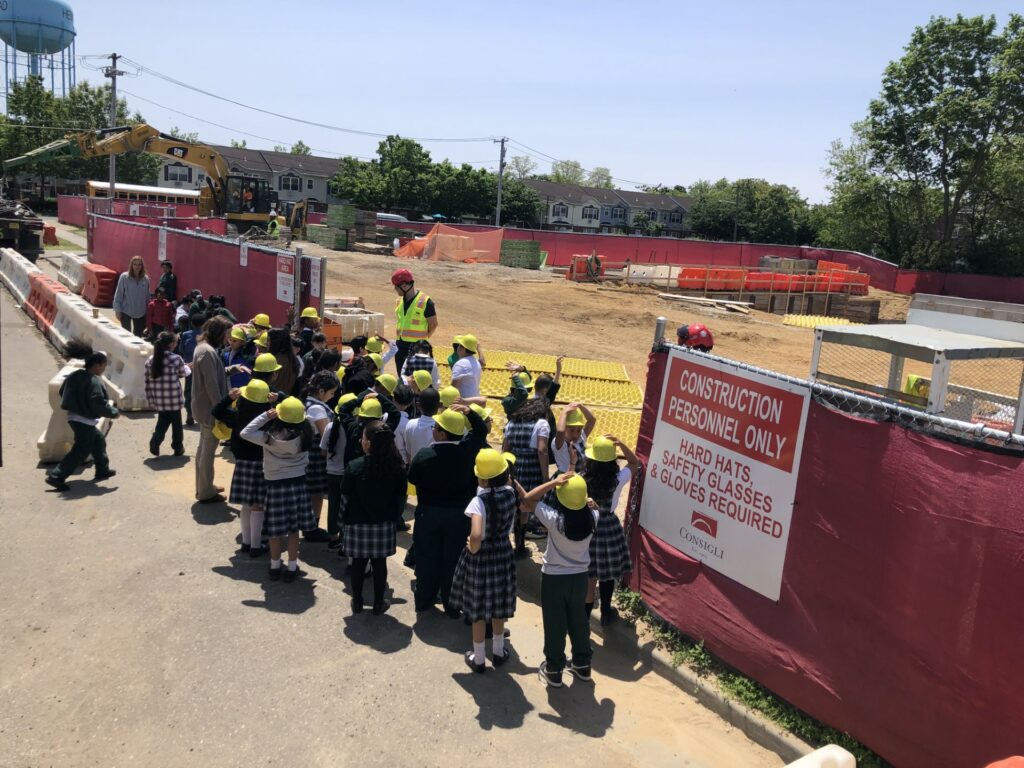 Students visit the site to observe the construction process. Photo: Evergreen
Making the Vision a Reality
Construction on Evergreen is underway, and students have visited the site to see their new school come to life from the ground up. Mass timber will arrive on site in September after the installer completes custom notching to accommodate the design—a great example of mass timber's flexibility and opportunities for customization.
Momo Sun attended the groundbreaking ceremony and remarked on how the enthusiasm and cohesiveness of the entire team had impacted the project's success up to this point. "Seeing how the Evergreen founders [Sarah Brewster and Gil Bernandino] advocate for the community and this mass timber project has been incredibly inspiring," says Sun. "Together with MHA, Odeh, Consigli, and the extended team—this unique group is highly passionate about what they're building and who they're building it for."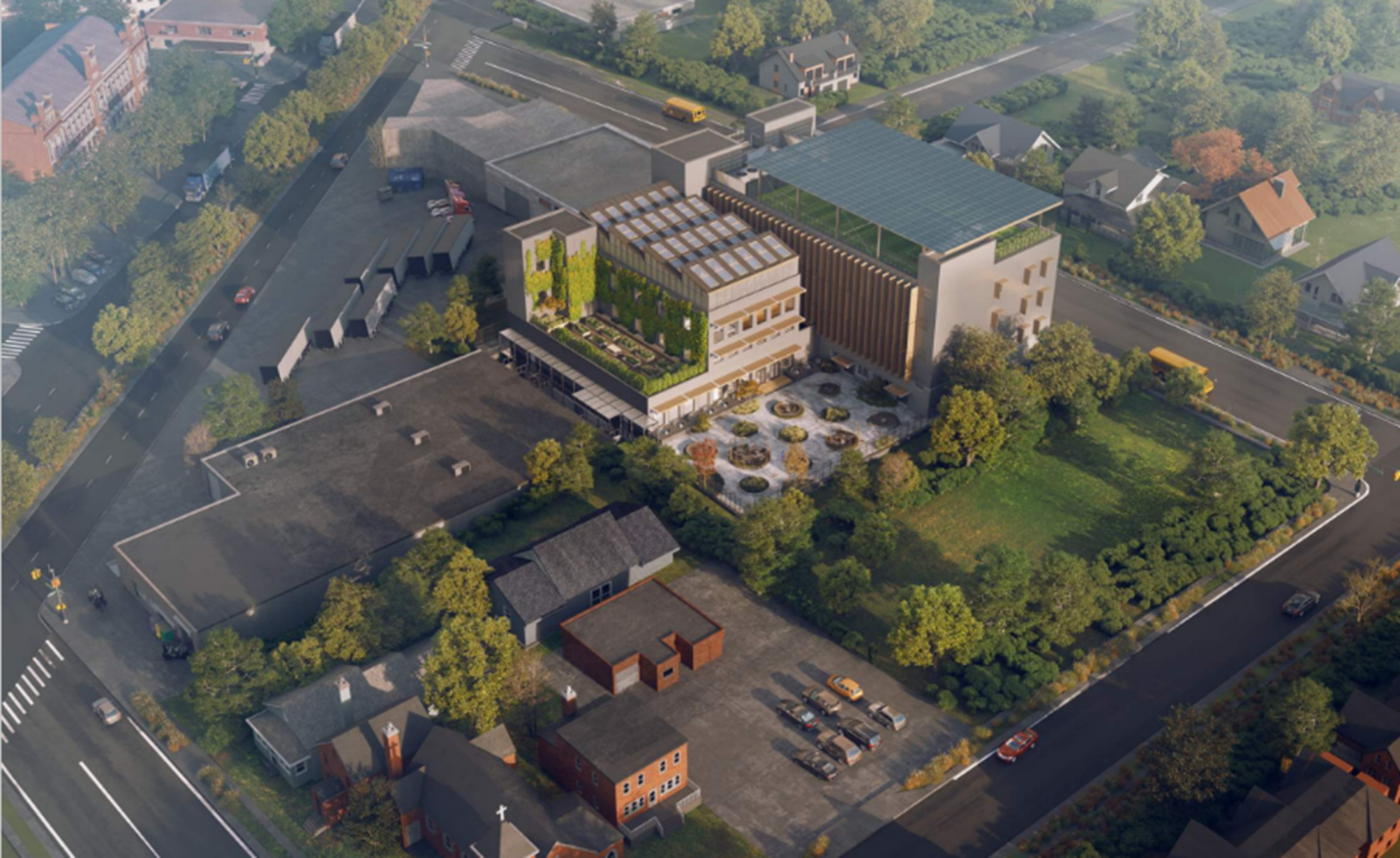 ---