Project Spotlight: USAA's Mass Timber Warehouse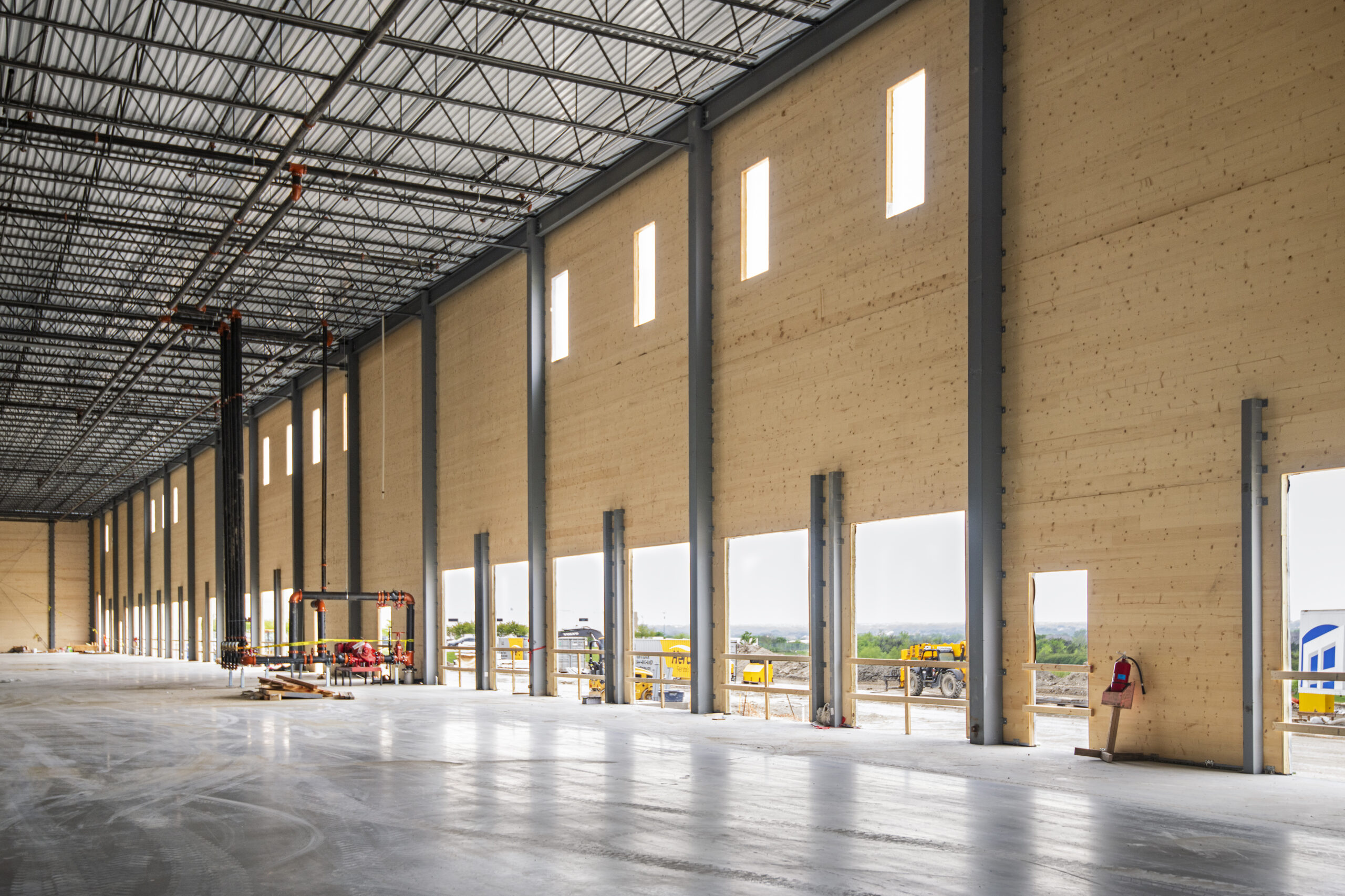 Aug 22, 2022 WoodWorks
Can mass timber set a new precedent for warehouse design?
In Dallas, USAA Real Estate and Seefried Industrial Properties demonstrate how wood can raise the bar on sustainability while creating market differentiation in the warehouse/industrial submarket.
Their new 161,000-square-foot project, part of the 157-acre Southfield Park 35 in Dallas, TX, is among the first mass timber warehouses in the U.S.—and the largest so far. The Type V-B building was constructed using cross-laminated timber (CLT) walls integrated with a steel structural frame. Timberlab engineered and installed the CLT, supplied by Kalesnikoff.
WoodWorks organized a tour of the project for a group of AEC professionals, led by developer USAA Real Estate, general contractor Clayco, architect PDMS Design Group, and structural engineer Hunt & Joiner. According to the team, the decision to use CLT over traditional concrete tilt-up helped reduce the project's carbon impact by more than 45%. As USAA Real Estate's construction manager Josh Hullum noted, developers and warehouse tenants are increasingly interested in building with—and enjoying the benefits of—more sustainable wood products.
Jonathan Stites, a Seefried senior vice president, shared that being part of a groundbreaking project "focused strictly on using sustainably harvested timber and eco-friendly materials is monumental in the market and has promising room for future growth."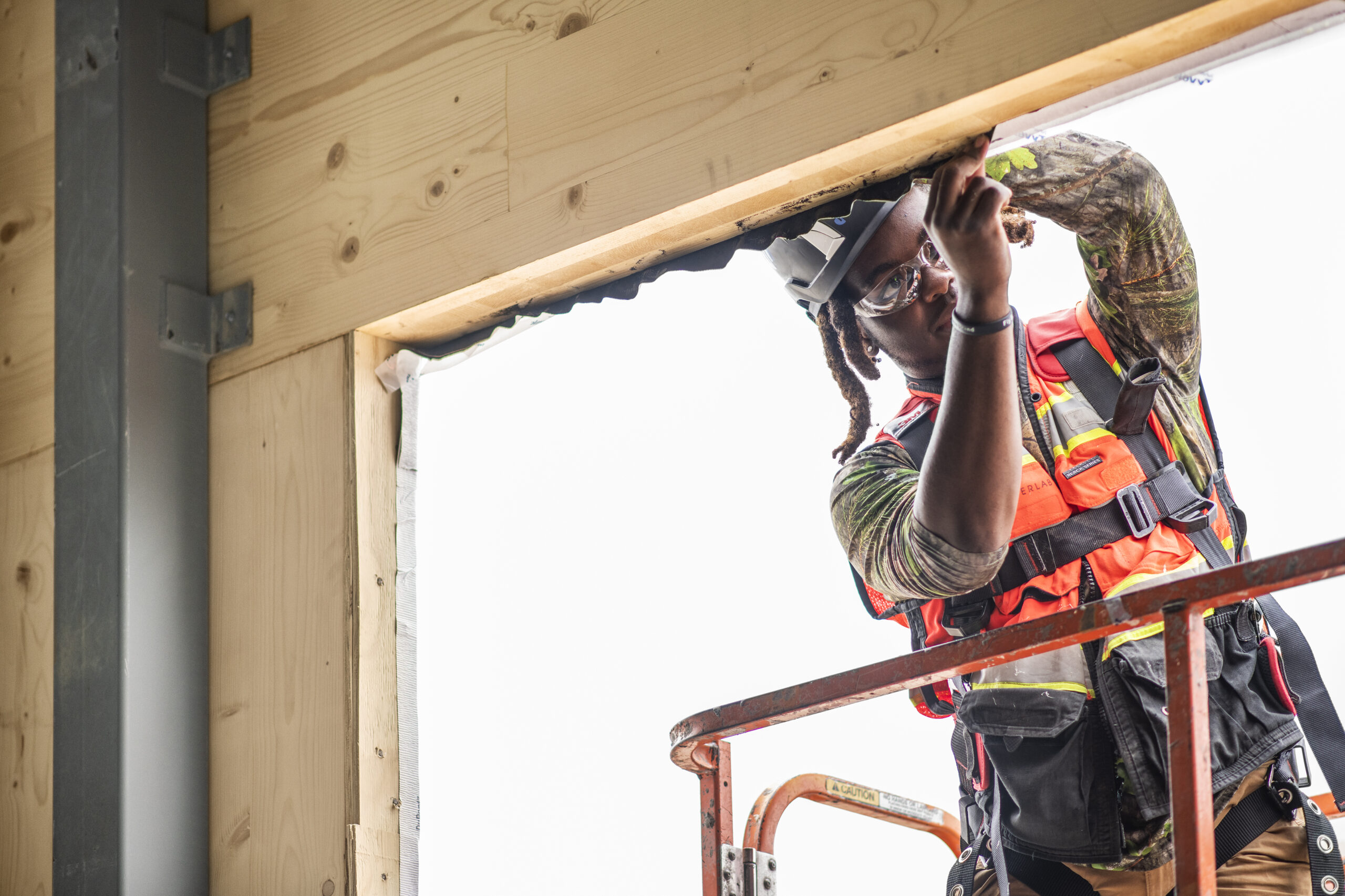 The Business Case for Mass Timber Industrial/Warehouse Projects
Exciting news! We're expanding our series of Mass Timber Business Case Studies to include industrial/warehouse buildings. Next month at Advancing Mass Timber Construction 2022, we'll be joined by Peter MacKeith, Dean of Architecture at the University of Arkansas, to release a case study on the University's Library Storage Facility.  
The industrial-like high-bay storage building is designed with performance objectives, including tornado resistance and a high level of climate control to safeguard the University's valuable library collections. Dean MacKeith shared that using CLT wall/roof panels and glulam framing allowed the University to build this hardened facility cheaper, faster, and better than the alternative concrete/fully-grouted CMU hardened facility. If you're attending the Advancing Mass Timber 2022 conference, join us to learn more about the business case for this innovative industrial building.
Download the entire series of WoodWorks' Mass Timber Business Case Studies, where developers/owners share costs and returns, successes and challenges. (The Library Storage Facility case study will be available on September 13th).
---
Ask us Anything.
Are you interested in wood for your next industrial/warehouse project? Get in touch. Our expert team is available to answer questions related to all aspects of wood design and construction and for project assistance customizable to your needs—all at no cost.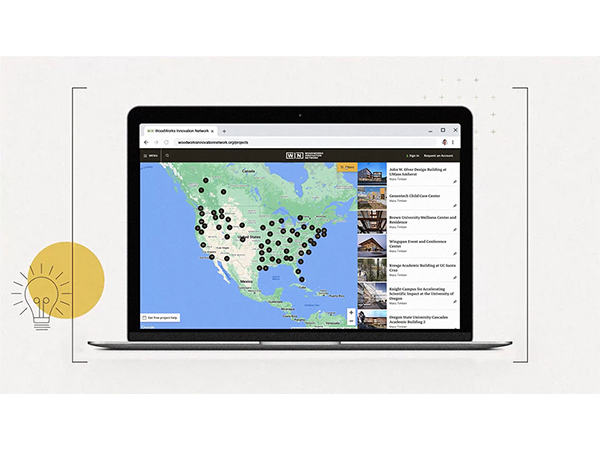 Browse mass timber projects and connect with their teams on WIN.