On the Agenda: WoodWorks at the 2022 Mass Timber Conference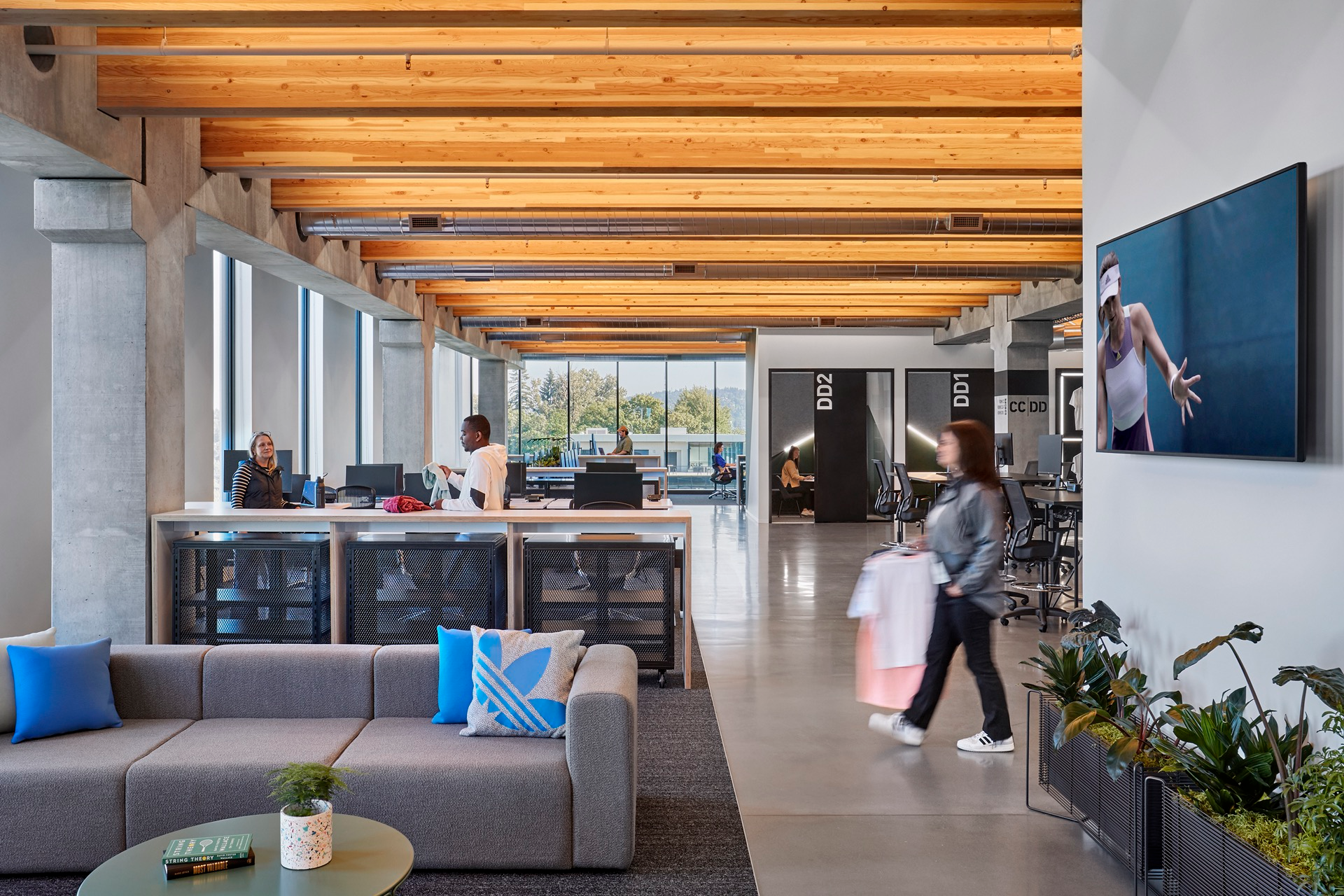 Mar 21, 2022 WoodWorks
The 2022 International Mass Timber Conference (MTC) will be one of the largest gatherings of mass timber experts in the world, attracting professionals from across the forest, manufacturing, design, development, and construction industries. Attendees can explore cross-laminated timber (CLT), nail-laminated timber, glulam, mass plywood panels, dowel-laminated timber, and laminated veneer lumber, and the opportunities and obstacles in global manufacturing and construction.
As we count down the days to the conference, we're sharing what to look forward to from the WoodWorks team, co-producers of the event with the Forest Business Network.
Behind the Scenes on the New Adidas North American HQ
Adidas' new North American Headquarters was just awarded our Jury's Choice 2022 Wood Design Award and is featured in a newly published WoodWorks case study. MTC attendees have the chance to tour the 213,000-square-foot project and see up close how mass timber connects the company to its Pacific Northwest identity.
Learn about the project in the weeks leading up to the MTC tour. Download the Adidas HQ case study below.
Pre-Conference Mass Timber Workshop
This optional add-on has a small charge but will provide a great jump start to the conference with a baseline of mass timber education from WoodWorks' expert team. Whether you're new to mass timber design, or looking to refresh your knowledge, gain a full-systems understanding of the unique design considerations for mass timber structures at this in-person clinic.
A Mass Timber Clinic: Introducing and Mastering Design Topics, hosted by WoodWorks
Portland, OR | April 12 | Learn more about this pre-conference event (You'll have the option to add the pre-conference WoodWorks event during general checkout.)
WIN Member Networking Event with Ascent Developer Tim Gokhman
WoodWorks Innovation Network (WIN) members are invited to an evening of networking, food and drinks on Wednesday, April 13th. This in-person networking event will kick off with Ascent developer, Tim Gokhman, sharing his insights on "How to Overcome the Obstacles of Risk." WIN members can log into their WIN accounts to purchase tickets.
Hear from WoodWorks Experts
Our team is excited to moderate and present multiple sessions at the conference. See the full agenda here and make a note of presentations featuring WoodWorks team members, below.
Wednesday, April 13
TRACK 2 | 10:30 am – 12:00 pm
Preconstruction Planning: How to Get What you Budget For
Mass Timber Construction Management Program Manager, Brandon Brooks, MBA, PMP, will moderate.
TRACK 3 | 10:30 – 12:00 pm
Tall Mass Timber: Navigating Codes, Approvals and Details
Ricky McLain, PE, SE, Senior Technical Director – Tall Wood, will present on "Differential Material Settlements in Tall Mass Timber Structures." A technical paper from WoodWorks titled, Differential Material Movement in Tall Mass Timber Structures, will also be released at the event.
TRACK 1 | 1:15 pm – 2:45 pm
A Pulse on Mass Timber Markets: Hurdles and Growth
Bill Parsons, PE, VP of Operations, will present.

TRACK 2 | 1:15 – 2:45 pm
Managing an Active Mass Timber Construction Site
Momo Sun, PE, PEng, Regional Director for NY, NJ and PA, will moderate and Brandon Brooks will present on "Workforce Development and Pathways for Success."
TRACK 3 | 1:15 – 2:45
Designing to Maximize Mass Timber's Climate Benefits
Ashley Cagle, PE, SE, Technical Director, will moderate.
Thursday, April 14
TRACK 2 | 10:30 am – 12:00 pm
Financial Performance & Public Policy: Groundwork for a Growing Market
Melissa Kroskey, AIA, SE, Technical Director, will moderate.
TRACK 3 | 10:30 am – 12:00 pm
Structural Efficiency and Optimization
Scott Breneman, PhD, PE, SE, Senior Technical Director – Mass Timber, will present "CLT Diaphragms: The Real Deal is Here."
TRACK 3 | 1:15 pm – 2:45 pm
Long-Term Durability and Performance by Design
Janelle Leafblad, PE, Regional Director for OR, AK, HI, ID, WA, will moderate.
See the full agenda here.
We'll see you there.
In addition to presentations, WoodWorks will have a booth at the conference. Stop by #507 to chat, connect with our experts, and get copies of the latest mass timber design resources.