Sound Solutions + Mass Timber in Multi-Family Housing
October 19 @ 12:00 pm

-

2:00 pm

EDT
$20.00
Register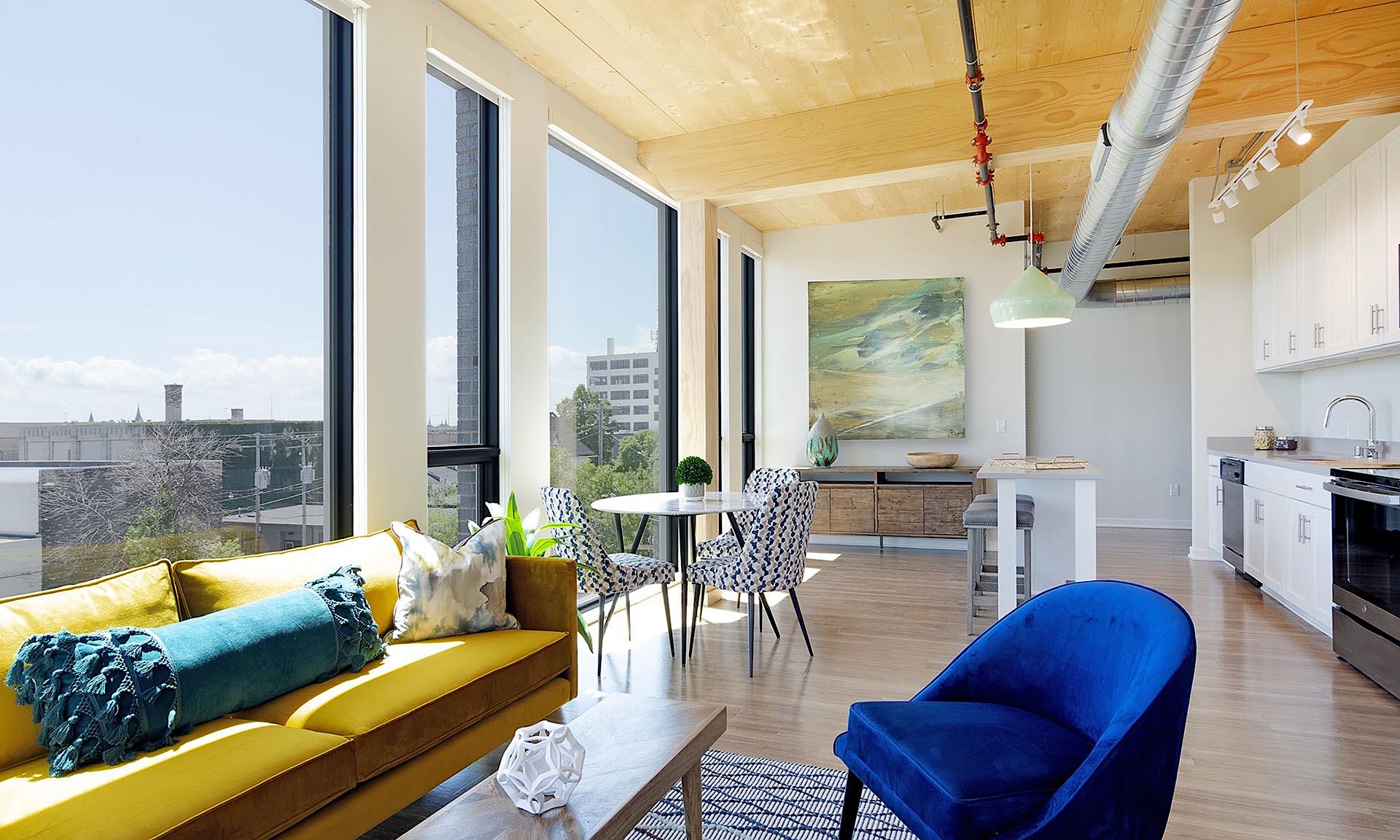 Regional Online Seminar (NC, SC, TN)
Mass Timber in Multi-Family Housing: Is It a Good Fit for Your Project?
Mass timber is often attached to the stigma of being more expensive than other building materials. Because of this, some people assume it only makes sense for one-off projects where innovation is celebrated but repeatability is not. Is this true, or do its other benefits result in overall cost efficiency? If it is true, how can we expect to build the number of new housing units needed across our country in a sustainable and affordable manner? Typical multi-family housing developments are in the range of 4-6 stories, often utilizing podium or pedestal construction with 1-2 stories of steel and concrete topped with 3-5 stories of light wood framing. Beyond these heights, building codes have historically required steel or concrete framing and, to justify the added costs of these materials, projects often go much taller. This has created a critical gap in housing developments in the range of 6-12 stories. Can mass timber multi-family projects make financial sense in the 4-6 story range, used in conjunction with light wood-frame systems? What new opportunities will the 2021 International Building Code create for mass timber housing in the 6-18 story range? This presentation will answer these questions and much more.
Sound Solutions: Designing for Acoustics in Wood Structures
Noise control in buildings such as apartments, schools, and offices plays an important role in tenant satisfaction. Selecting an effective wall or floor/ceiling assembly is important—and necessary for proper design—but it's just one of several considerations. Covering both light wood-frame and mass timber structures, this presentation will provide a top to bottom approach to achieving sound acoustical performance. Topics will include code requirements and owner expectations, tested assemblies vs. calculated performance, exterior noise, interior noise reverberation, structural and fire-resistance related components, detailing to avoid flanking paths, and installation best practices.
Speaker: Jessica Scarlett, EIT
Attendees can Earn 2.0 AIA/CES HSW LUs, 2.0 PDH credits or 0.2 ICC credits
Online Attendees:
WoodWorks will send each attendee a certificate of completion within 2 weeks via email.
Please note that to receive a certificate, attendees must stay for the duration of the event.
For questions or additional information, please contact:
LeeAnn Charpentier, CMP | leeann.charpentier@woodworks.org | (301) 633-0330
Timber Lofts / Engberg Anderson Architects / Photo ADX Creative and Engberg Anderson Architects