2023 Mass Timber Conference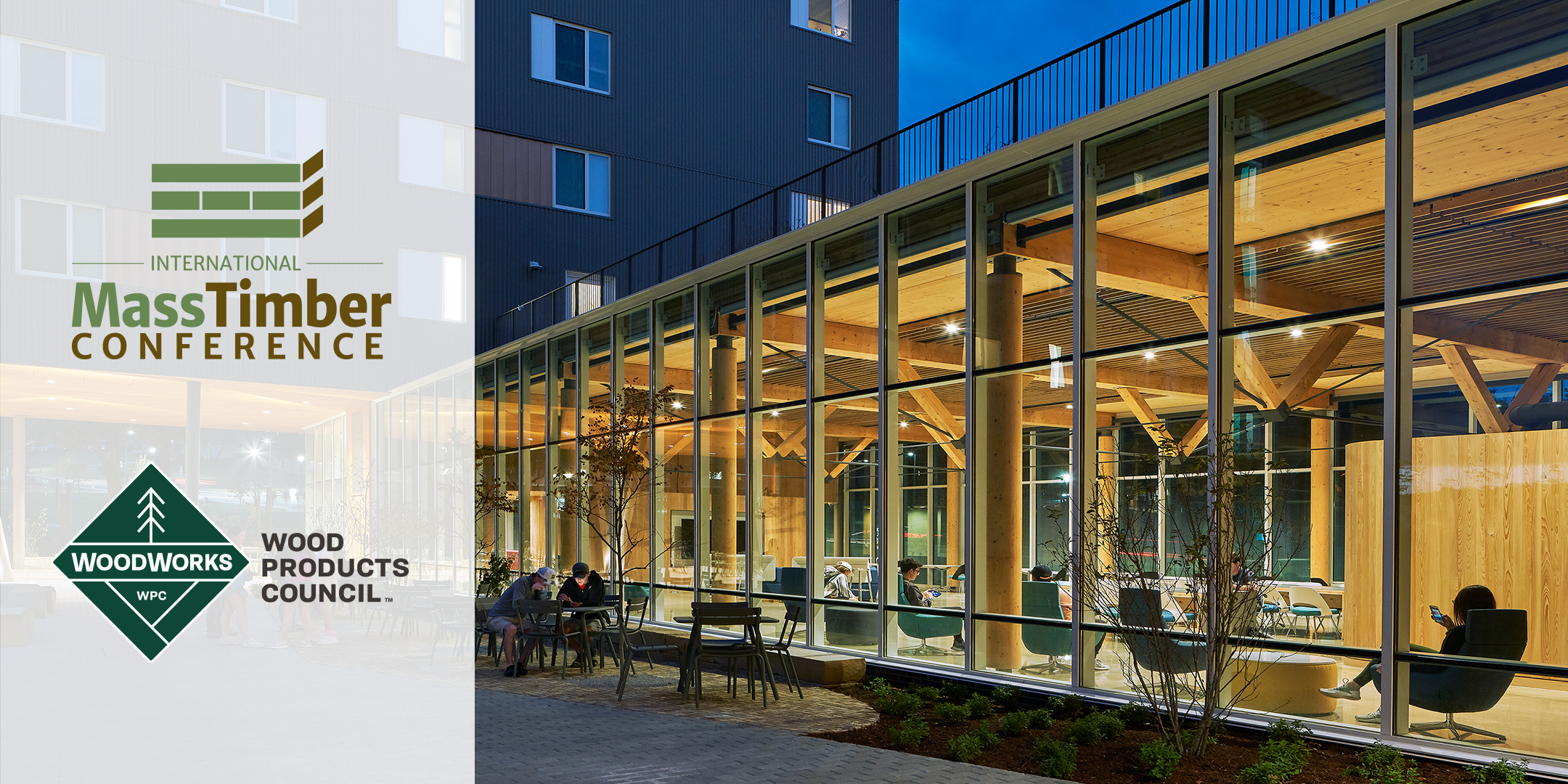 Jan 11, 2023 WoodWorks
Gearing up for MTC 2023
March 27–29, 2023 | Portland, OR
The International Mass Timber Conference (MTC) – produced by WoodWorks and The Forest Business Network – is the largest gathering of mass timber experts in the world, focusing on the entire industry supply chain. Explore cross-laminated timber (CLT), nail-laminated timber, glulam, mass plywood panels, dowel-laminated timber, and laminated veneer lumber; and the opportunities and obstacles in global design, construction, development, manufacturing, and more.
Keynote speakers have been announced and include Anyeley Hallova, founder of Adre (moderating a special keynote roundtable discussion titled "For Whom / By Whom: Social Equity and Mass Timber" and Michael Green, Architect and Founder of MGA presenting "Buildings of the Future: The Next Evolution of Wood."
See the full MTC agenda.
WoodWorks at MTC
Monday, March 27
Mass Timber Bootcamp: Becoming a Mass Timber Design Expert
WoodWorks will host Mass Timber Boot Camp: Becoming a Mass Timber Design Expert Monday, March 27th. Topics will include mass timber products, code compliance, fire resistance, new tall mass timber construction types, structural design and layout, connection detailing, acoustics, MEP integration, and more. Project examples will be included throughout to highlight and emphasize design solutions implemented on real structures.
Attendees will earn 3.5 AIA LU/HSW, 0.35 ICC Credits. AIA 23MTWS01, ICC 32938.
Time: 12 – 4 pm PT (finishing in time for the opening reception)
Where: D Meeting Rooms: 135–136, Oregon Convention Center
NOTE: This is an optional event and must be purchased separately from any attendee passes. Only available to those who purchase a Full or 1-Day pass to the conference. The boot camp occurs simultaneously with the building & research tours on the same day, so participants must choose one or the other. You can purchase a boot camp ticket on pg. 3 of the registration form.
2023 Wood Design Award Winners Announcement
WoodWorks will announce the 2023 Wood Design Award Winners, in national and regional categories, live at MTC. We hope you'll join us as we recognize the project team members.
Time: 5:00 – 5:15 pm PT during the opening reception
Where: WoodWorks Booth A1/Mass Timber Construction Demo
Celebrating Women in Wood Design
In honor of Women's History Month, WoodWorks is hosting Celebrating Women in Wood Design at the MTC opening reception. Stop by to network with other women in our industry.
Time: 6-7 pm PT during the opening reception
Where: WoodWorks Booth A1/Mass Timber Construction Demo
Tuesday, March 28
Mass Timber Construction Demonstration
We'll be constructing a two-story mass timber mock-up on the exhibit floor and sharing information about our Mass Timber Construction Management Program. Stop by on Tuesday to see a mass timber structure going up in real-time.
Time: Begins at conclusion of opening keynote, will continue throughout the day
Where: WoodWorks Booth A1
WOODWORKS IN SESSION
Track 4 – 10:30 am – Heather Strong is moderating Optimizing Design and Keeping Costs in Check: Secrets from the Manufacturers with a roundtable discussion featuring Michaela Harms, Sterling Structural; Andre Lema, Western Archrib; and Lee Scott, Element5.
Track 2 – 1:15 pm – Construction Management Program Manager Brandon Brooks is moderating Avoiding On-Site Delays & Disruption, featuring Brad Nile, Andersen Construction; Aaron Gould, VaproShield; Joe Geluch, Naikoon Contracting; and Robert Malczyk, Timber Engineering.
Track 4 – 1:15 pm – Ricky McLain is moderating Insurance & Financing for Mass Timber Projects: Relationships & Knowledge are the Key, featuring Brian Burg, MWR Gallagher; Mike Brady, JLL Capital Markets; Mark Gadaire, Chubb Group; Nate Helbach, The Neutral Project.
See the full MTC agenda.
WIN Networking Event
WoodWorks and the WoodWorks Innovation Network (WIN) will host WIN members and special guests for an evening of good food, drinks, and networking. Last year's dinner was a huge success, and we'll repeat that success this year with developer Dan Whalen of INTRO in Cleveland. Register using this link. Space is limited.
Time: 6:30-9:30 pm
Where: Castaway Portland
Wednesday, March 29
WOODWORKS IN SESSION
Track 3 – 1:15 pm – Ashley Cagle (WoodWorks) and Alexis Feitel (Structural Engineer, Team Carbon Unit Director at KL&A Engineers & Builders), will present Understanding the Impacts of Material Choices Through Carbon Accounting.
Track 4 – 1:15 pm – Melissa Kroskey (WoodWorks) will join Boris Gokhman and Tim Gokhman (New Land Enterprises) and moderator Andrea Newton (ULI Northwest), for Completing the Value Proposition for Developers and Owners.
See the full MTC agenda.
Free Pass Giveaway (CLOSED)
Are you considering attending the conference? Apply to win a free pass – valued at $1235.* Applications must be submitted by February 1, 2023. Preference will be given to first time attendees of the Mass Timber Conference who are currently working on a mass timber project.
*Full Conference Pass includes: 2023 International Mass Timber Report, 60+ presentations, 130+ exhibits, reception, breakfast & lunch on Tuesday and Wednesday. Free conference pass does not include airfare, accommodations or other travel expenses.